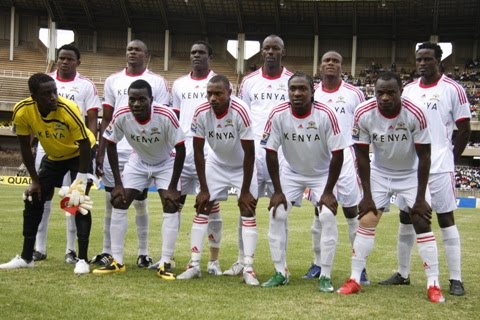 Two Gor Mahia players, Kevin Ochieng and Collins Okoth "Gattuso" were in action at Namboole stadium in Uganda as Kenya held Uganda scoreless in the last 2012 Africa nations cup qualifier. Kogalo coach Zedekiah Otieno "Zico" was in charge of stars. Defender Eric Masika was on the bench but did not see playing time. Both teams needed a win and hope that Angola loose in order to qualify.
In addition, there were other players with a Kogalo connection. Goalkeeper Arnold Origi who was arguably man of the match, is the son of Kogalo legend Austin Oduor Origi "Makamu". Some of you will remember that Austin, started as a midfielder, later played sweeper and on at least two occasions during friendly ,matches, played goalkeeper. And he was a highly competent goalkeeper. As a man marker , "Makamu" was second to none. Stars fans will remember the marking job he did on Liberian legend George Weah during a nations cup qualifier in 1989. Perhaps Makamu's most memorable moment in a stars uniform was when his orthodox scissors kick prevented a goalbound shot with the keeper well beaten when Kenya played Cameroun at the 1988 Africa nations cup. So it is no surprise that his son has the same defensive skills.
Dennis Oliech is the brother to the free scoring Steve Okumu who played for Kogalo in 1994 and Andrew Oyombe who played for Kogalo in 2006. Oliech has appeared in a friendly match for Kogalo before.
Matchwise, Uganda dominated. Origi made several spectacular saves to deny the Ugandans who were looking to qualify for the nations cup for the first time since 1978 when they reached the final while parading Ugandan legend of Kenyan origin, Philip Omondi.  Omondi whose roots are in the Seme area of Kisumu is to this day considered the best striker Uganda has ever produced and was top scorer at the 1978 Africa nations cup.
Failing to qualify will be yet more bad news for Kenyan fans who have been eager to see the golden generation of Oliech and Mariga parlay their skills at the top continental showcase. Next up is a decision by the Harambee stars management board on the fate of coach Zico, something that is eagerly awaited by Kogalo fans and stars fans.