Charity Cup
Serious business for the 2013 season starts this weekend as Gor Mahia face off with Mathare United in the Kenya Charity cup. Each team will play two matches in one day.
The fixtures:
9.15 am: Gor Mahia v Mathare United
11.15 am: Western Stima v Sofapaka
4.00 pm: FINAL
CAF Preliminary round
Gor Mahia will face off with Anse Re Union of Seychelles in the CAF cup preliminary round during the weekend of February 16th. The Return leg will be during the weekend of March 2
Kenya Premier League
Gor Mahia will kick off the 2013 Kenya Premier League on Wednesday February 20th against Ulinzi at Kasarani. They will then play KCB the following Sunday the 24th of February. Gor Mahia will be looking for a better start to the season than they have had in the past 4 years.
Super Cup
Gor Mahia will clash with Tusker in the 2013 SuperSport/DSTV  Super Cup on February 23rd. Tusker won last year's edition by beating Gor Mahia 4-1 on penalties. Perhaps this is why Kogalo have been working hard on their penalty technique recently.
Injury Concerns
Chris Wekesa, Solomon Nasio and Ivan Anguyo are all doubtful for the tie after picking up injuries in the weekend friendles.  Coach Logarusic told michezoafrika.com : "I am not too sure whether they will be available for us this weekend because they have not been training comfortably. However, I have 32 players in the team and three absent still leaves me with 29,"
Congestion of matches
Gor Mahia will play 7 games in a Span of 28 days. Coach Logarusic has indicated that he believes that the depth of his team will carry them through.
This is another area where having some youth players would benefit the team. The Charity cup matches especially would be suitable for youngstars.

In Israel Emuge, Gor Mahia have signed a vastly experienced , dependable centre back. Emuge who is 28 has played for top Ugandan teams KCC, Express Red Eagles and most recently for upstart team Kira Young.
In Uganda Emuge is known as a defender who reads the game well, has excellent aerial ability and is a solid tackler. he will partner with fellow Ugandan Ivan Anguyo or with Donald Mosoti depending on circumstances. Emuge given his physical attributes will be especially useful against robust strikers.
It is now being reported that the reason Emuge's name was not included in the CAF list is because his international transfer certificate did not arrive on time. According to futaa.com, Emuge's ITC came on January 22. A week late. He will thus be unavailable for the CAF cup.
Paul Kiongera, the highly touted signing from KCB has already settled in at the club. He put on an excellent show at the Saturday match against. He seems to have already developed an understanding with Dan Sserunkuma and Rama Salim with whom he has played at the national team. This bodes well for the season. "I took it as an opportunity and I appreciate every moment. It hasn't been difficult adapting because the football here is so good and I'm very happy with how everything has been.
"The coaches give me confidence and I hope to keep improving to help the team as much as possible. I enjoyed my competitive debut against Sony and the team is full of good and talented players. It's been life full of football and fun right from training, he told the club's website gormahiafc.co.ke.
And as usual, the fans are part of the reason why so many players want to play for Gor Mahia. It is what attracted Giovani Rodriguez and Danish striker Rasmus Jacobsen. On the fans, Kiongera said "I love the fans and the way they show us support even during training. They are one of the best things about football for the players. We need the fans behind us because it helps the team play well on the pitch."
New signing David Otieno has expressed admiration for coach Logarusic. "I am impressed with the coach so far, he has a way of working that is different to the rest," said Otieno to supersport.
"He speaks to every player like his family and treats them like equals. Also, he is not afraid to tell someone what he thinks, which is good for me. Then he has a certain energy to him. He does not just stand there and say nothing, he walks around and gives instructions.
 Otieno who is a defender is another highly experienced player having been at Gor Mahia briefly in 2006 before joining Tusker and Western Stima. Otieno, Zachary Onyango and Kiongera were the three new signings who impressed Logarusic the most last weekend
One of the trends that has become prevalent in the past 2 years at Gor Mahia is their penchant for signing only established players. This year for example, the new players at Gor Mahia were Innocent Mutiso, Abbey Nattey, Zachary Onyango, Israel Emuge and Paul Kiongera. Its bad enough that Gor Mahia has no coherent youth development policy. But the lack of interest in signing young players is a trend that needs to be addressed.
There is nothing fundamentally wrong with signing established experienced players. In fact established players are useful for plugging immediate needs especially when the club is aiming for success at continenta level.
But there is something to be said about blending youth with experience. Coach Logarusic recently indicated that he has to teach his players basic tactical lessons that 14 year olds in Europe already know. Such things are best taught to the youth. It is easier to instill such lessons to young players. Older more established players find it harder to absorb such lessons. They have been playing for so long and the bad habits have been ingrained in them such that it is much more difficult for them to learn.
With a knowledgable coach like Logarusic, young players can pick up these lessons quickly and become good players.
Throughout its history, Gor Mahia has always been known as the club that identifies young players from the grassroots and turns them into superstars. In fact throughout the glory years, almost all the star players at Gor Mahia were signed from obscurity. Charles Otieno, Allan Thigo, John Okello Zangi, Bobby Ogolla, Peter Otieno "Bassanga", Hezborn Omollo, George Onyango "Fundi", Dan Ogada, Allan Odhiambo etc all came from obscure clubs and in no time were national team players.
Gor Mahia also often identified players directly from secondary schools and instantly turned them into superstars; Sammy Owino, Kempes, Nahashon Oluoch "Lule" , Sammy Onyango "Jogoo" , George Nyangi etc all joined Gor mahia while in secondary school and became superstars.
Len Julians in particular was very good at moulding young players into excellent players.
In this regard, Gor Mahia became a key provider of talent to the national team by identifying young talent and moulding them into international calibre players.
The club also benefited by having a more cohesive unit since some the players had been playing together since their late teens or early twenties. The players had been playing in the same system learning from the same coach and thus had a very good understanding.
By 1987, this group had matured and gained a lot of cohesion. Coach Jack Johnson came and was able to mould this team into a formidable unit that provided almost half of the national team that qualified for 3 succesive Africa Nations cups and won the continental diadem in 1987 along with the league and the domestic cup.
Even after the success of 1987 Gor Mahia were still not satsified. In 1988 they went to the grassroots and brought a new generation of young talent to challenge the established players. This is when players like Paul Ochieng, Mike Otieno, Ignatius Khaduli, Hezron Osuka arrived from lower division teams and became stars at the club. The club was always infusing young players into the playing unit to keep the established players on their toes and to regenerate.
In those days Gor Mahia had a network of scouts all over the country. These scouts would identify grassroots talent and recommend them to the club for trials. And there were some teams that were in effect feeder clubs for Gor Mahia. Such was the case with Kisumu Hotstars which produced Allan Thigo, Bobby Ogolla, Charles Otieno, Anthony Ndolo, Tom Odhiambo and others.
In recent years, Coach James Sianga who was very adept at identifying talent from the grassroots, plucked players Anthony Akumu, Ibrahim Kitawi and Eric Masika from obscurity and making them useful players. Others like George Odhiambo "Blackberry", Edwin Lavatsa, Musa Mohammed and Kevin Omondi were identified while still in secondary school and became very good players for the club. Sianga even saw something in Peter Opiyo who had been ignored by Thika United and brought him to the club. From virtual obscurity, pass master Opiyo became a national team player.
It is also true that some players do not pan out. But the neat thing about young players is that you do not have to pay a King's ransom for them. They are not in high demand which means you can offer them an apprentice salary. If they become good players then you can offer them a better full time contract. In other words, young players come cheap but a club can reap very high rewards from them.
Coach Logarusic will find that instilling lessons in young players is much easier than in established players.
The last two years Gor Mahia has shown no interest in unearthing the rough diamonds from the grassroots. And worse still, they have shown absolutely no interest in signing players from schools who have shown great potential.
Case in point, at the national schools championships various coaches expressed admiration at Michael Olunga of Kakamega high school. The player himself publicy stated that Gor Mahia was his first choice. There is no sign that Gor Mahia showed interest. Olunga is now at Tusker. There is also the case of Pattilah Omoto who received rave reviews while at Kariobangi Sharks and is now at AFC.
There is a lot of budding talent at the grassroots and at schools. At this point I am not sure if Gor Mahia has any scouts or whether they have assigned anyone the responsibility of identifying young talent. This would be a grave mistake.
Once again there is nothing wrong with signing established players. But blending youth with experience yields better results. And Barcelona have shown us that there is no substitute for a coherent youth policy. Almost half their players are products of their youth system.
Perhaps the greatest benefit of a coherent youth policy for a club like Gor Mahia is the fact that it is much easier to sell a player to Europe for good money if he is young. European teams are typically interested in buying players below 23 years of age. In 2010, two of Sianga's products, Akumu and Blackberry garnered the interest of a European team. And even though Blackberry's career at Randers was a washout, the club made a good amount of money by selling him to Randers.  A well run youth program can pay for itself many times over. Clubs in South America earn most of their revenue by selling young players to Europe. A club like Gor Mahia with a coherent youth policy can sell 1 or 2 young players to Europe each year. This kind of money can be used to bolster existing structures to make the club better and perhaps even build a permanent training ground for the club.

scrolling="no" frameborder="0"
style="border:none; width:450px; height:80px">
In their second friendly match of the Nyanza tour, Gor Mahia drew 1-1 with Muhoroni youth. The first half ended scoreless. In the second half, Gor Mahia took the lead via Rama Salim. Muhoroni equalized in the 70th minute via Kelvin Omondi
After the match ended 1-1 in regulation, the match went to post match penalties which Gor Mahia won. Kevin Omondi, Edwin Lavatsa, Victor Ali, Yussuf Juma and Antony Gathu scored their penalties for Gor Mahia. Muhoroni scored four penalties through Kelvin Omondi, Harry Gentle, Frankline Osama and Marvin Seko. Abbas Akinyemi sent his effort wide.
Below are the final results of last week's poll
See this week's poll and express your views
Courtesy of EA Standard
The Giovanni Rodriguez saga is not about to end any time soon. Even as Gor Mahia coach Zradvko Logarusic disdainfully dismissed the Brazilian as too unfit and overweight to join the 'Green Army' stable, a section of the club executive is uncomfortable with his abrasive assessment of the player and public pronouncements.
Gor Mahia chairman, Ambrose Rachier, took a middle ground, but was emphatic that a final decision will be made by the executive at a meeting early next week.
"We have his detailed records of video and resume from the Brazilian federation. The player has been keen to join us for the past two years and when he came here for trials, at his own expense, we thought we should give him a chance," said Rachier.
Prove himself
"He has confessed that due to a lay-off, he is overweight, but he wants to regain his fitness. Although the coach has the final say on matters to do with fitness and talent, we need to give the player a chance to prove himself," he added.
"As the chairman, I have not been briefed on the matter. I am just reading comments by the coach in the Press, which is out of order. We will sit down with the coach and other members of the technical bench to make the final decision," he said.
"The coach is not the spokesman of the club. Matters of decorum and protocol were broken, but we understand that the coach comes from a different culture where coaches are managers and therefore assume the role of spokesmen," he said.
The issue has reportedly divided the club down the middle, but Rachier sought to downplay this as "people who have divergent opinion on club management."
Some fans are accusing the coach of vendetta against the Brazilian, and of feeling the player may take attention from him.
"It is the duty of coaches to protect players, such that even if he cannot pass the fitness test, a way would be found to describe the situation in a better way," said a fan.
The Brazilian's agent also weighed in with a resolute defence of his player.
Bernard Opondo, who brought Rodriguez to Nairobi through a Brazillian contact, insists the player has a two-year contract, which must be honoured by Gor.
He also defended his client against claims that he is unfit to play for Gor.
"Rodriguez is a professional player. He had a season long lay-off and was only practicing in the gymnasium which saw him add weight. With proper practice he is going to go back to his normal weight," said Opondo.
He claimed the player trained under respected Brazillian coach Gebran Araujo, who also handled famous Brazillian midfielder Ronaldinho Gaucho.
Opondo claimed Logarusic was being used by a section of officials in the club to discredit his player.
"I have seen his training with Gor and he is a fantastic dribbler and therefore I am convinced that the latest outburst by Logarusic can only be incitement from some officials in the club," added agent.
On Wednesday, Logarusic confirmed they have no space for the Brazillian team saying the player also has some personal issues to sort out back home.
"After watching the player in the last one week, it is our opinion as the technical bench that he will not fit in our system. He needs time to work on his fitness before we make any decision," coach added.
Gor Mahia beat SoNy 1-0 in a pre-season friendly match played at Awendo Green stadium.
Starting Lineup: Zachary Onyango , Chris Wekesa, Solomon Nasio, Mosoti, Israel Emuge, Joseph Njuguna, Akumu, Rama Salim, Moses Odhiambo, Dan Sserunkuma, Paul Kiongera
From the very beginning , Gor Mahia proved to be in a class of their own, with a series of neat passes leaving SoNy to chase shadows.
Returnee Moses Odhiambo scored the winner after 10 minutes beating former team-mate Wycliff Kasaya in the SoNy goal. Gor Mahia could have put more goals on the score-board. On 25 minutes, Dan Sserunkuma missed a glorious opportunity when he found himself one on one with the goalkeeper.
Gor Mahia had most of the possession and did most of the pressing. SoNy sat back and waited for opportunities to ctach Gor Mahia on the break. Some positive signs for Kogalo is that Paul Kiongera seems to have developed a good understanding with Rama and Sserunkuma. That department looks promising.
After the match , the teams participated in a penalty shootout which Gor Mahia won 4-1 with Moses Odhiambo, Dan Sserunkuma, Paul Kiongera and Kevin Omondi converting
In the second half, Gor Mahia brought in Ivo Mapunda, Musa Mohammed Yusuf Juma, David Owino, David Otieno , Ali Abondo, Edwin Lavatsa, Innocent Mutiso, Gathu and Moses Otieno in place of the starting lineup
During their tour of Homa Bay district, Gor Mahia are due to visit Kanyamwa, the spiritual home of the club. It is the home of the legendary Gor Makogalo whom the club is named after.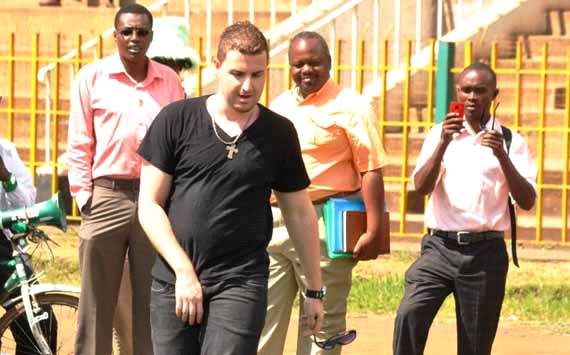 Courtesy of goal.com
In a move that does not come as a surprise, Bernard Opondo, the agent responsible for bringing Rodriguez to Kenya has insisted that Gor Mahia must honor the 2 year contract that Rodriguez signed. According to goal.com, Opondo also hit out at coach Zdvarko Logarusic for claiming that Rodriguez was home sick. According to Opondo, there is a scheme by certain officials to rid the club of Rodriguez through back door channels.
Opondo told goal.com thus ""The player has a two year contract which Gor are obliged to honor. He does not have a problem at all. I would have known because I am always with him. I have a copy with details of the contract he signed,"
"I was directly involved in bringing Rodriguez to Kenya after agreeing with his agent Diego Armando back in Brazil. I have informed Armando what has transpired and they are very disappointed."
He also hit out at Logarusic : "The way Logarusic is behaving, he cannot even handle a division four side in Brazil. He appears to be in a hurry to get rid of the player without giving him time which is wrong."
Opondo said the agreement they had with Gor was to give Rodriguez at least three months to work on his fitness level and a decision on his future would only be made after he has started playing for the club.
"We all knew he was unfit after staying out of competitive football for a while and he requested for time to work on his fitness which was acceptable to everyone. We don't understand the sudden turn of events." Opondo told goal.com
All this leaves the question as to why the club would sign Rodriguez to 2 years contract despite the fact that he clearly looked out of shape. Its possible that Rodriguez could petition FIFA for redress if he does have a legitimate contract. Although we have heard from Logarusic, we still have not heard from the player himself
The Gor Mahia FC annual general meeting will be held this Sunday January 27. According to the story posted on michezoafrika, the meeting will occur at 10:30 am
George Bwana told michezoafrika that this is an opportunity for club to detail plans for the future, present the financial report and plans.
With several issues burning in the minds of fans, this is an opportunity for memebers to ask questions such as
1. How come the club does not have a coherent youth policy. Even our rivals AFC are starting to take tentative steps. And as we read recently, Azam has over 100 players in its youth program.
2. Why does the club need such a bloated EC ? Are 3 Vice Chairmen needed. Why not channel that money towards worthy endavors like youth development.
3. What is the fate of the land that was donated to the club in Embakassi ?
4. The club supposedly takes only 12% of proceeds from jersey sales. Can the deal be restructured ? In case the club has not noticed, new jersey sales are not as hot as they were before this deal.
Bloggers can add other pertinent questions here.
George bwana also announced that club elections will be held on schedule in Novermber of 2013. Which means anyone including my fellow bloggers who wants to run for office should start making their intentions known and spelling out their agenda/manifesto. This column will be happy to help any serious candidates.
.
After much fanfare and intrigue, it appears Gor Mahia are set to formally part ways with Brazilian striker Giovani Rodriguez Bissolli.
The striker had arrived in Kenya amid much anticipation and excitement created when the club announced that it was signing a Brazilian. The club management went into overdrive calling everynews outlet to drum up publicity.
When Rodriguez finally arrived, the multitude of fans who went to watch him at City stadium exprienced a fair amount of cognitive dissonance. The Rodriguez they saw at City stadium is not the one that they saw in the youtube videos, one of which was posted on this column.
The Rodriguez of the youtube videos showed immaculate technique, good movement, fluidity and vision. The Rodriguez who arrived here seemed out of shape,  unsure of himself and lacking in technique.
Last year with the Felixinho debacle, it was the Nigerian who arrived in Kenya to market himself. This time it was Kogalo management who went in search of Rodriguez.
It is not readily clear whether it was Rodriguez who misrepresented himself or whether it was the club that did not do its homework.  
When fans found that he had been playing in Bangladesh then warning signs started to sound as we all know the Bangladeshi league is not up to scratch. And if a Bangladeshi team was not interested in him then it is unlikley that he would succeed at Gor Mahia.
In the end however, coach Zdvarko Logarusic has apparently told various news outlets that Rodriguez is not part of his immediate plans. He told supersport "I can confirm to you I will not be taking Rodriguez to the Nyanza tour as he has family issues at home and is already home sick so I have to only take only the players who are conditioned and ready for the friendlies,"
 Other sources at the club indicated that since Rodriguez did not meet the club's standards, he was being let go. The fate of his contract where he was supposed to earn sh 150,000 per month for two years remains to be seen.
Next Page »