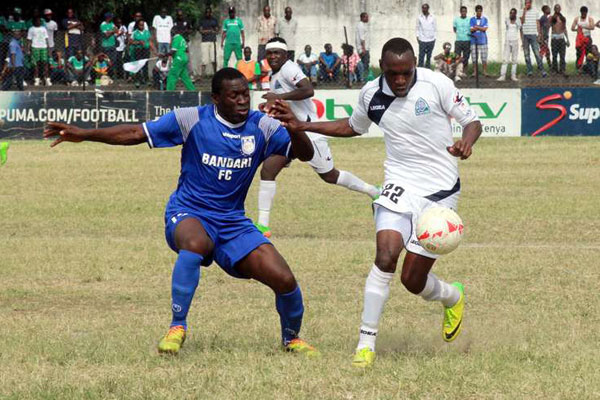 There was no stopping Gor Mahia this past weekend, as they overcame a determined Bandari side. With the league virtually sewn up, every team is now aiming to become the one team that can derail Gor Mahia's charge towards an unbeaten season. Since the formation of the KPL. No team has finished the league unbeaten. The last time a team finished the league unbeaten in Kenya was in the late 1980s, over 25 years ago.
Gor Mahia could become the first team to finish the league unbeaten
They look certain to break the record for the number of points. This record is currently held by Mathare United who won the 2008 league with 63 points
They will also have won the league 15 times which far surpasses any other team
Coach Bobby Ogolla has been in a buoyant mood of late
"We smelled the title from way back and it is now just a matter of time. But we can't celebrate just yet because we have six matches to go. Maybe in the next one or two matches, maybe against Ulinzi then we will pick the title," said to Bobby Legend supersport.com
Gor Mahia are a class above other KPL teams as attested by Bandari defender Mohamed Shariff
They are a very good side and you can see why they are so far away in the KPL," he said to supersport.
"I thought we gave our very best. We gave them a hard time too but they are very good and forced us to make mistakes which we normally do not."
"The mistakes today cost us the game and were it not for them, we deserved at-least one point from the game."
"I think that they are deserving of their position and they have a good chance of going unbeaten for the remainder of the season," he added.
Gor Mahia putting money into coffers of corporates and other teams
East African Breweries limited have made an executive decision to hold their encounter against Gor Mahia at the Kisumu Stadium. EABL are enchanted by the vast and passionate crowds that always show up in Kisumu to support Gor Mahia. So they have decided to move the match to Kisumu though it provides Gor Mahia with an advantage since Kisumu is essentially Gor Mahia's homeground.
"It is a great opportunity for our marketing team to carry out various activations and that is why we will play the match in Kisumu," he told goal.com.