As has been correctly pointed out by blogger "Barefoot" on this blog, Gor Mahia should fully expect harsh treatment when they visit Gabon. As Barefoot correctly pointed out, the Gabonese will probably stop at nothing to beat Gor Mahia.
Intimidation by Hosts
Just recently, when Harambee stars visited Calabar, Nigeria, they were not availed a proper training ground and had to train by running in between classrooms at a primary school.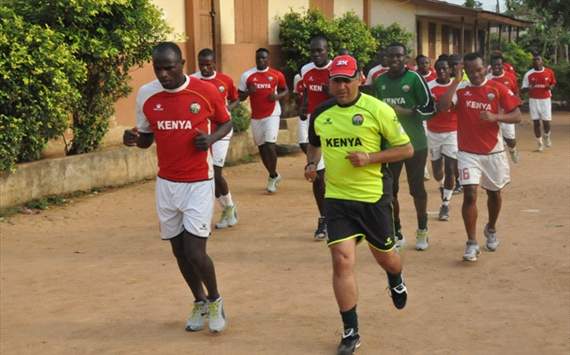 Back in 1988, when Gor Mahia played Inter Club of Congo-Brazzaville, they received extremely harsh treatment at the hands of their Congolese hosts. The trouble started right at the very airport when Gor Mahia players were initimidated by soldiers and held at the airport for several long hours. On top of that, Gor Mahia were given a training ground that was right next to an army shooting range. The players could not concentrate on training because they could actually hear the gunshots and the bullets whizzing past. Eventually they had to leave the training ground and train near the hotel swimming pool. With all that intimidation , Gor Mahia ended up loosing the second leg. 1-4.
As Barefoot also correctly pointed out, Gor Mahia should be ready to face hostile match officials and must maintain their cool even in the face of poor officiating.
Pre-Match Meals
Gor Mahia must also make their own plans for pre-game meals. Back in the Mid 1970s, Luo Union were fed a meal laced with laxatives right before their match against USM Alger. With Luo Union players indisposed and literally sick, they ended up loosing 6-2. As a result, Gor Mahia in the 1980s would bring their own cook, specifically the legendary Andrew Ochido "Kamkunji" to cook what is known in vernacular as "Kwon mar mengo", i.e a sufuria of ugali for the entire team.
Plan Ahead
Gor Mahia must utilize the Kenyan embassy in Libreville to make their own plans for training, accommodation and meals. Unless, acclimatizing is needed, Gor Mahia should plan to arrive two days before the match in order to avoid being given poor training facilities.