By the 2013 season, Gor Mahia fans had gone a colossal 18 seasons without winning the league title. Having come very close in 2012, they were determined to secure the title. Hence the catchphrase #GINIWASEKAO which dominated discussions in the blogosphere and in social media.
In 2014, the crisis du jour is one of public perception. Unfortunately, the Gor Mahia and to a lesser extent AFC Leopards have become synonymous with hooliganism. This despite the fact that 90% of Gor Mahia fans are peace loving fans who bring colour to the Kenya Premier league.
The misbehaviour of a small segment of the fan base has sullied the club's name. It has also given free reign to those who hate the club for sporting reasons or for political reasons to pile all manner of unfair criticisms. There are those who wait with bated breath for the slightest incident involving Gor Mahia fans to pile on in the media, in blogs, in social media and in general discussions.
Worse still, the behaviour of a few fans may have cost the club a sponsorship. Its not clear what caused Tuzo not to renew the sponsorship. But the sudden cancellation of the three year sponsorship coincided with widely transmitted images of Gor Mahia fans lifting chairs from Nyayo stadium. That incident may have been the straw that broke the camel's back as far as Tuzo was concerned. And even if it was not the cause, it certainly did not help.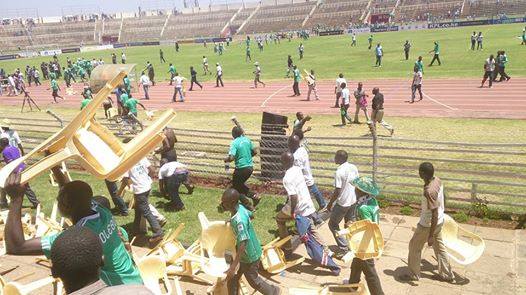 In January, chairman Ambrose Rachier vowed to deal with hooliganism by saying: "I am going to deal with hooliganism in the stadium even if it means being unpopular," said Rachier. "I know we have talked about it for so long but I think I am going to take a different approach. It has so many facets." . Those promises however have not appeased detractors.
Gor Mahia will eventually land another sponsor. With Gor Mahia matches being transmitted to televisions all over the continent, the club offers an excellent avenue for a company that wants to get instant name recognition.
Attendance
Aside from that, hooliganism hinders many fans especially casual fans from attending matches. It is likely that attendance at Gor Mahia matches would increase by as much as 50% if there was no expectation of hooliganism. And as bad luck would have it the fans who sneak into the stadium without tickets by scaling the fence or bribing policemen are the ones who are likely to engage in acts of hooliganism.
Loss of points
In 2014, KPL has come up with a new rule whereby points will be docked for hooliganism. If there is any reason to curb hooliganism that might have an impact on hooligans it must be this one.
Good Fans are the key
It is refreshing to see some Gor Mahia fans already taking steps such as handing over misbehaving fans to the police. More than that however, fans must also take it upon themselves to sensitize other fans about the need to behave themselves when they are at the stadium or when walking around with that green jersey on.
Making #Wacha Hooliganism the catchphrase for 2014 is only a small part of fighting the menace of hooliganism. But its an important start. It can be Wacha Hooliganism, Toa hooliganism, weuru hooliganism or any variation thereof. The bottomline is that fans of goodwill must make hooligans realize that there is no place for them at Gor Mahia.