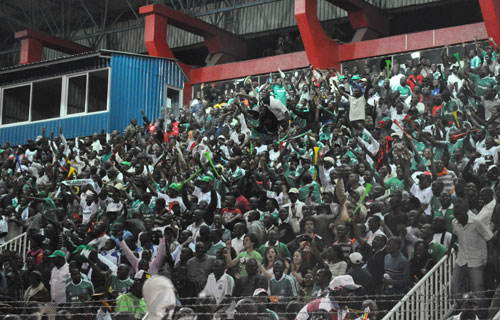 In a move that shows forward and progressive thinking, Gor Mahia FC  have announced that starting this Friday, fans will be able to buy season tickets. Secretary General George Bwana told goal.com that will pay Sh6,000 for a season ticket which will allow them to watch all Gor Mahia home matches.
There are several advantages to buying season tickets for fans:
To begin with, the season tickets come at a significant discount. By paying KSh 6000, a fan can watch all home matches. That amounts to KSh 400 per home game which is less than buying tickets on game day. Bwana indicated that Another benefit will be express entry to international matches involving the club as well as friendly matches. Some clarification is required from the club on what this means. If it means the season tickets also cover internationals and friendlies then this is a bargain that is too difficult to pass up. 
Fans will be able to avoid the hassle of standing in line to get tickets or taking a trip  to the ticket buying locations which can be time consuming. 
All in all the club stands to raise more revenue by selling season tickets.  
Bwana told goal.com that for now the season tickets will only be applicable to the VIP stand and terrace season tickets will be introduced next year depending on how the current arrangement works out. This is a good move from the club to roll out the program in sequential steps and if it works then it can be expanded. It shows good planning on the part of the club officials.  
Bwana also told goal.com: Among the advantages to be enjoyed by season ticket holders include entry to matches through a special gate. The holders will also receive discounted rates at partner hotels, local airlines and holiday resorts.  
The club is going to have to elaborate much further on the specific benefits especially with regard to travel and accommodation. Because if those benefits turn out to be real and tangible then the demand for the club's season tickets could expand significantly.  
The benefits for the club include the fact that the club will get an assured source of income unlike the current situation where they have to wait until game day. Having cash in hand early means the club can generate more money say through an interest generating bank account or other investments. 
In order to assuage fans who have doubts, the club will have to redouble their efforts in stressing accountability and transparency.