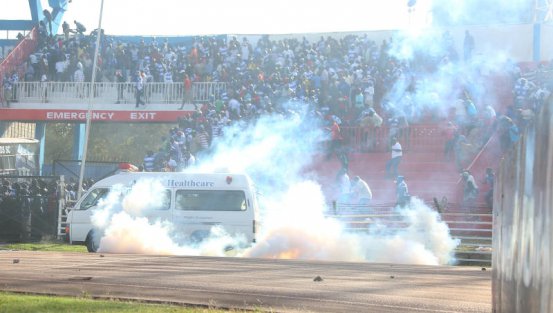 Reports posted on goal.com suggest that Nairobi governor Evans Kidero is moving to ban both Gor Mahia and AFC Leopards from the City of Nairobi.
"The Governor is very incensed by the acts of fans from both teams. He has condemned what happened on Sunday and has moved to ban them (Gor Mahia and AFC Leopards) from the City." says a source to goal.com
The source has revealed to Goal that Governor Evan Kidero has also demanded that the two clubs compensate for damages caused after Sunday's 'Mashemeji derby' that was called off owing to crowd trouble.
In this case Kidero would be taking a cue from Governor Mutua of Machakos who banned Gor Mahia from Machakos.
Meanwhile Kidero is silent on the fact that one of his employees, driving a city of Nairobi vehicle actually ran over several Gor Mahia fans deliberately.
Clarification
After releasing the initial statement banning both clubs, Kidero rescinded it saying he had no capacity to do so immediately. He said the banning issue was being considered.
Kidero however wants compensation from organizers of the Kenya Premier League game after hundreds of fans stormed into the streets destroying property and uprooting trees along Uhuru highway.
This behaviour from fans is unnacceptable and is precisly why these teams cannot gain sponsorship while lower clubs have lucrative deals.
FKF Blames Gor Mahia
Meanwhile Sam Nyamweya has fired yet another salvo against Gor Mahia . KFF now blames Gor Mahia saying they had requested the home club and KPL to inform them of their security plans on August 19 ahead of the match in vain.
"However the League organizers KPL and the home team never responded to our letters and adamantly never invited us for any pre-event security meeting as required," said FKF in a statement.
The statement said FKF issued out their recommended guidelines that are standard procedure during such a high risk encounter. "We also wish to point out that on match day there was a serious security lapse due to the very few police officers present and also the serious breach by the organizers by not frisking fans entering the stadium." No buffer zone was created as per the recommendation of the governing body and both clubs stewards engaged in fights inside the perimeter fence, said the statement.
Ambrose Rachier as KPL chair has been in battle after battle with Sam Nyamweya of the FKF over issues like TV revenue sharing and how many teams will be relegated. Nyamweya is now taking it upon himself to make life difficuult for Gor Mahia. Last month he refused to pay for Gor Mahia to travel to Tanzania for the CECAFA cup despite having committed to do the same.