Having beaten Esperance in the final of the 1987 Africa cup winners cup, Gor Mahia will be hoping to achieve a similar feat when they take on Esperance de Tunis at the Nyayo national stadium on Saturday.
Gor Mahia fans and players will draw inspiration from that feat that lives in the folklores of Kenyan football as they take on the Tunisian giants.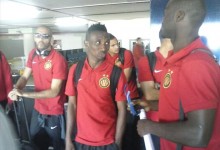 It however will be a tall order. Whereas Gor Mahia were the better side in 1987, Esperance will be the favourites this time around. They have consistently been amongst the top African teams over the past 25 years and they reached semi finals of the African champions league in 2013.
Esperance coach Coach Ruud Krol , when asked whether history will count in the match Krol said "We are well aware that Gor Mahia beat Esperance in 1987 to win Nelson Mandela Cup but that is a long time ago and will not account at all when we play them on Saturday."
Budget
Esperance boasts an annual financial budget in the region of 18 million Euros which is approximately Ksh 2,132,334,000, well over 2 billion, An astronomical figure by African standards.
Ruud Krol
The Dutch coach is vastly experienced both as a former player and a coach. He played for both Ajax and the Dutch national teams during the peak of their powers in the early 1970s alongside legends like Johan Cruyff and Neeskens. It was during this period that the Dutch won the European cup of nations and reached the World cup finals. Krol also learned his trade under Rinus Michels, one of the best coaches ever, twice winner of the European Nations cup.
As a coach, Krol is vastly experienced, having coached teams in Europe like Ajaccio (Dennis Oliech's current team) and KV Mechelen. In Africa he has coached the Egyptian national team as well as Orlando Pirates, Zamalek and CS Sfaxien whom he coached to the CAF Confederation cup win in 2013.
The coach exuded confidence upon arrival in Nairobi. "The weather in Nairobi seems perfect. My players are in good shape and ready for this tie. I have only watched Gor on YouTube. They have a good left back and central striker, so we will exercise caution but I still target a positive result,"
The team
The key to the success of Esperance at continental record is their strong away record. Last year they did not loose a match away from home during the first 3 rounds. The defence is anchored by Tunisian national team first choice goalkeeper Moez Ben Cherifia.
A player to watch out for is attacking midfielder Ossama "picasso" Darragi, a free scoring player who has scored 8 times in the Tunisian league this season and is joint second leading scorer. He is quick, has close ball control and will make incisive runs into the penalty box.
Luckily the attack minded dangerman Khaled Gharsellaoui has been left at home due to lack of match fitness.
Darragi will be assisted by Ghanaian international Harrison Aful and Mohamed Ali Mhadhebi. Afful plays deeper on the right side of midfield and is a strong tackler who is also good on the ball. He makes quick runs from deep. Gor Mahia will need to watch out for him should he run into the penalty box because he falls easily at the slightest touch.
The attack will be led by Camerounian Yannick Djeng who joined them in 2011 after having been the subject of interest from Swiss side FC Sion. Djeng is powerfully built and uses his strong physique to shrug off defenders. He also has a powerful left foot which uses to send rocket as soon as he gains an inch of space. Luckily Gor Mahia also have the robustly built Israel Emuge.
Lining up alongside Djeng will be Ahmed Akaichi who is currently the second leading scorer in the Tunisian league with 8 goals in 20 matches. Akaichi is a classic goal poacher, good at positioning himself in the right place at the right time to score.
Esperance like most North African sides are very quick on the ball, very precise in finishing and are capable of launching lightning counter attacks, something that Gor Mahia will have to watch out for. Coach Ruud Krol indicated to a Tunisian newspaper that Gor Mahia lacks pace and he intends to exploit that lack of pace.
Krol also hopes that the fact that the Kenyan league has just started will work in the Tunisian's favour because Gor Mahia have not gotten into their rhythm. Krol will be going for an all out attacking formation since he wants to win in Nairobi to make the return leg a formality. "We are the team to beat , and the best scenario is to play offensive to bring down the team on their home ground" said krol.
Tunisian League
With 20 matches played. Esperance are currently leading the Tunisian league standings. They have won 14 drew 5 and lost 1 for a total of 47 points which is 9 points ahead of second placed Etoile Du Sahel. Their last match was a 3-1 win over Metlaoui on February 22.
Gor Mahia fans will be hoping that coach Williamson has studied the Tunisian side and prepared a game plan. "We know they are regulars at the Champions League and that are highly ranked on the continent , but it is also our merit that has brought us so far and we we enhance after every game ', has said the Scot , Williamson. 'I am confident in our ability to win by taking step by step" said Williamson.
With the right approach, Gor Mahia can beat Esperance. Last year, St George of Ethiopia eliminated ENPPI of Egypt and came very close to eliminating Zamalek.
The club
Espérance means "Hope" in French. The club was formed in 1919 and has won the Tunisian league 25 times, the Tunisian cup 14 times and have won 5 continental tournaments. The club's nickname is Taraji which also means hope in Arabic.