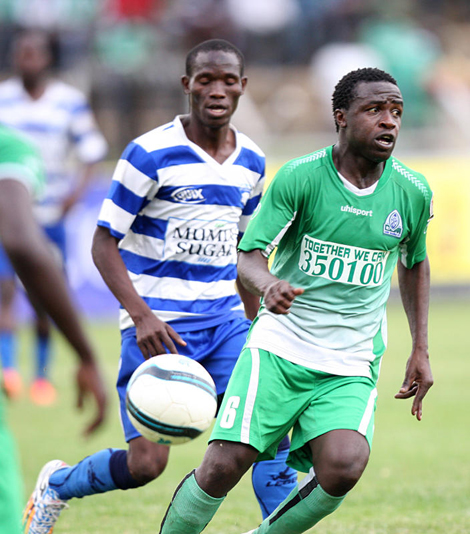 Gor Mahia have announced that the so called problems with Collins Okoth are a non-issue.
"We have no problem with him or any other player. That we have summoned Okoth for any disciplinary cause is just a rumour since at the moment, we are in good terms with him" said team manager Jolawi Obondi to citizen sports.
Kenyansstar Interview with Collins Okoth
Kenyanstar: You are one of the most solid holding midfielders and you can walk into any starting eleven in Kenya. Tell us about it?
Collins Okoth: My secret is to work hard and work twice as hard in training. Also you have to believe in yourself, give your best and don't be intimidated.
KS: How can you describe your time at Gor Mahia?
CO: I have had a fantastic time at Gor Mahia. The best of it being winning 3 league titles in a row. I have certainly enjoyed my stay at the club.
KS: You have quit Gor Mahia before and accused the club of unfulfilled promises. For example, non-payment of salaries. How true is this?
CO: We had an agreement with club about my fee but they never fulfilled their promises. I played my role well. Having realized that the club could not fulfill their promises, I decided not to fight them but walk out peacefully.
KS: The current Gor Mahia Organizing Secretary Judith Nyangi has accused you on social media of sabotage and missing training intentionally. What is your response?
CO: The current OS is just an attention seeker. I asked for permission from the coach. I have been in this club under different regimes and we have worked amicably with other secretaries as was the case with Naima. You never heard them speak so ignorantly. Sometimes the level of education matters to…you know.
KS: You have fallen out with many coaches before. Zdravko Logarusic at Gor Mahia. Stewart Hall at Sofapaka. Where is the problem? Is it you or the coach?
CO: I have never fallen out with any coaches before. That is just a fabrication of the press and some critics. However, I have learnt to live with it.
KS: You have fallen out with Ze Maria before. Do you have any differences?
CO: Yes I have fallen out before with Ze Maria. However, we sat down(Himself and I) and he explained to me what he likes and his philosophy. We are friends and we are going to achieve great things with him.
KS: You have been accused of being indisciplined – missing training, disobeying authority…How true is this?
CO: Unfortunately, most people always believe in what they hear about me. Not the truth. The truth is I can't miss training without communication to the coach or team manager. I don't and will never miss training without permission.
KS: Why always you? Are you misunderstood?
CO: No. I am not misunderstood. In football you can't please everyone. I always speak my mind whether anyone likes it or not but I will tell the truth.
KS: Some fans say you cost the club the title last season when you failed to turn up for some matches. Your response?
CO: (Laughs) I never cost the club the league title last year. The coach makes decision whether I should play. If I am on the bench i can't force myself to play. So I never cost the team any league. Although fans believe I could have turned
things around if I played those matches.
KS: You were once quoted you in 2015 saying that, 'I attribute the current success to Frank Nuttal'. How good was Nuttall? Should he probably have stayed longer?
CO: In 2015, I indeed attributed the success to coach Frank. He was the best. A funny and loving man. He was always honest and I like him a lot.
KS: What's the secret to being a good holding midfielder like you?
CO: The secret of being the best holding midfielder is that you have to avoid doing so many mistakes always try and be simple; play one and two touches and protect your back 4.
KS: You captained Kenya before in CHAN. You are a regular there too. How much of an honour is it being a captain?
CO: It's an honour indeed and a great thing.
KS: Your Gor contract expires in June. Are you renewing it…if not where are we likely to see you?
CO: Yes my contract expires in June. I have only three months remaining. We players we don't know about the future, so I can't say whether I will renew or move. God knows about tomorrow.
KS: Any closing words?
CO: I urge the fans to come and cheer us this year. We want to make them happy and they should ignore the officials who are always on social media fighting for power.
KS: Thanks Collins! All the best ahead.
Fate of KPL Commencement in the balance
The 2017 Kenya Premier League which was due to start this weekend is facing further challenges. Sofapaka FC have obtained a court order from the high court to stop the start of the league.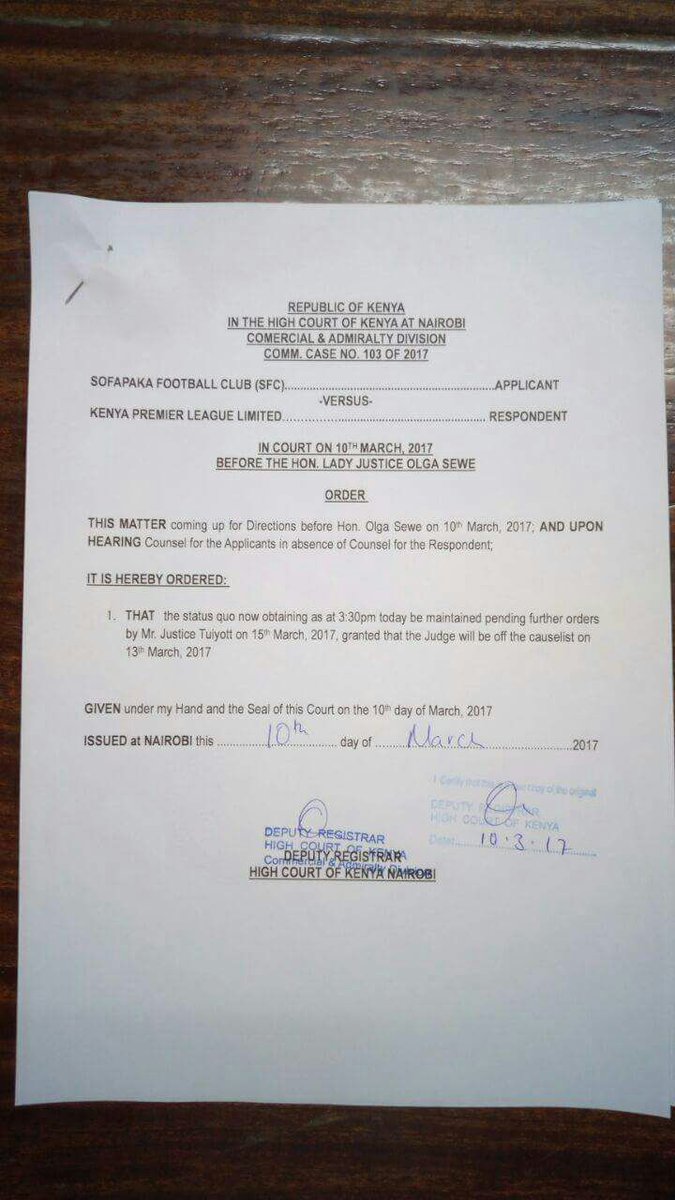 Sofapaka and Muhoroni Youth have a case at the Sports Disputes Tribunal where they are appealing the decision by Football Kenya Federation to relegate them for failing to comply with Caf Club licensing rule; a thing which has put KCB and Vihiga United on standby.
The case at (the tribunal) is set for its third hearing on Wednesday March 15, having made no steps in two sittings.  The KPL wants Sofapaka and Muhoroni Youth to remain in the league while the FKF wants the two teams demoted and instead KCB and Vihiga United elevated to the top tier.
Initially, all sides had agreed to start the league with 16 teams pending the outcome of the tribunal hearing. The league was already contemplating triple headers at some stadia. To make matters worse, there are many stadia across the country that are under construction and thus unavailable.
Playing triple headers is sure to damage the surface at the stadium. And the congested fixtures will mean teams play more matches per week on bad surfaces. It will not bode well for Ze Maria's style of short passes. Will he adapt?