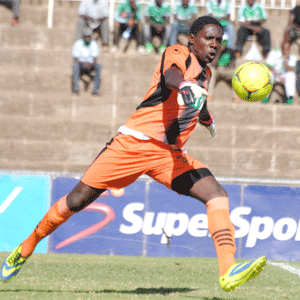 Boniface Oluoch joined Gor Mahia in January of this season. Despite a shakey start that saw him concede 5 goals in the first six games, Oluoch has settled down. He has put on some solid performances between the posts and has been a key reason why Gor Mahia has conceded far fewer goals than any other team. He explains that when he first joined Gor Mahia, he was a nervous wreck.
"In Gor Mahia, there is no room for mistake, at all at all. You will lose the ground because fans will not forgive you. You have to be on your toes in every match. When I joined, in the first few games I was nervous; I was literally shaking in the goal post because I did not want to make any silly mistake. I had to be 100% concentrated to give my best," Oluoch told goal.com.
Oluoch has now become accustomed to the pressure that comes with playing for Gor Mahia where only those with nerves of steel can thrive.
"Things are currently not bad, I am used to the fans but that has not reduced my level of commitment. I want to win every match with the team, the hunger is still there. I cannot talk of finishing the season unbeaten, all I can say, we take each game at a time and hope we will maintain the run. It feels good and we want to maintain it." he continued.
Oluoch's solid performances have seen national team coach Bobby Williamson entrust him with the starting line-up. He had a shakey performance against the Red Devils of Congo-Brazza. But he has seemingly settled down. He put on a solid performance when Kenya played Ethiopia including foiling a glorious chance when Ethiopia striker Assefa Behailu was left one on one with him.
Indeed whereas Kenya was eliminated by Ethiopia, Gor Mahia fans can pride themselves that they kept a clean sheet in large part due to Oluoch, Shakava, Musa Mohamed and captain courageous Collins Okoth.
Oluoch will be one of the players Gor Mahia will be counting on when the CECAFA cup starts next week. Gor Mahia will be seeking an opportunity to redeem themselves after a below par performance last season.