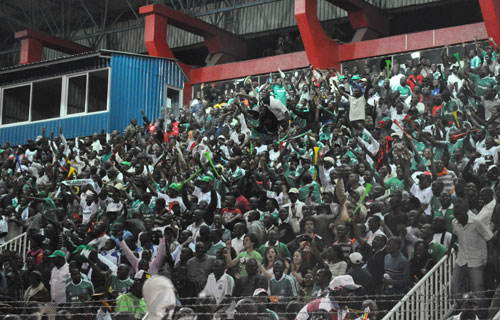 According to michezoafrika.com, former Kogalo Chairman Fred Mwango has declared his candidacy for the position of Vice Chairman at the forthcoming club elections. Mwango who is a former DC and earned notoriety for ordering a teacher to shave his untidy beard, was Kogalo chairman around the turn of the millenium. His time in office was not notable for any achievements.
Roselinder Achieng has declared her candidacy for the position of Deputy Secretary general where she will be pitted against the incumbent Ben Wamugo among others. In a story that appears on the michezoafrika website, she says:  "If and when elected, Roselinder has promised to work hand in hand with other elected leaders to transform Gor Mahia into a regional outfit and also to win back the glory of the team. She says the club needs to lead the way in introducing professionalism in management and setting up reliable and trusted structures that will help in managing the club to greater heights.
Top on Achieng's agenda is to transform the club's resource mobilization through creative merchandise promotions activities that will attract even the non Gor Mahia fans, introducing technology and adopting the e-ticketing approach in the sell and management of tickets, digitizing club information and accounts for transparency and accountability among others.
"Gor Mahia is a big club and we now need to start marketing ourselves beyond our borders to tap into the wider African market by wooing international companies to come in and sponsor the team." She said. "We also need to evolve with technology by gong digital, this is a new era and I will bring with me a lot of new ideas that will help the club brand itself as an admirable professional outfit.
"The position I'm vying for mostly entails generating revenue and marketing the club, a role I feel the current office holders have tried doing but would have done better had they put some controls and long lasting structures in place. The club loses a lot of revenue through conspiracy in ticketing despite the officials being well aware that gate collections have been and are still the club's biggest source of funding," Says she while promising to set up reliable and transparent  measures that will evade revenue loss which she says  has 'been deeply rooted in the club.'
George Bwana who recently led Facebook branch members to donate airline tickets for the teams trip to Mombasa has declared his candidacy for the position of secretary general.
One of the most vibrant Gor Mahia fans George Bwana has cast himself into the field to wrestle for the club's Secretary General Position in upcoming elections set to be held on the 27th of this month at Nyayo National Stadium. Backed by his campaign team led by Bonny Gor and a host of young Gor Mahia fans who have vowed to 'put things right' during the forthcoming elections, Bwana expressed his desire to capture the seat on pure grounds of honesty and integrity during the launch of his campaign in Nairobi on Wednesday.
Bwana becomes the second candidate to formally declare his candidature for the club's spokesman position after Tom Ataro. Flanked by his supporters, he expressed confidence that he will win the seat to offer the change that the club has yearned for over the period.
"My candidature is purely on grounds of honesty and integrity a test that most fans feel some current and former office holders have not met as per their expectations. When I get into office my first aim is to ensure that the secretariat is set up and fully furnished with the latest technological devices that will enable fans access the club's accounts upon request," said Bwana.
The club goes to the polls  on Sunday at the Nairobi City Stadium . For the Chairmanship, Ambrose Rachier will face  stiff challenge from Businessman  Collins Ajuok and Emmanuel Achayo.
Tom Oriko has announced his candidature for the post of secretary General. The position is currently held by Mwalimu Nickanor Arum.
Oriko has vowed to enhance players  welfare and beef up club branches. He said   he will bring more partners in the club and introduce good  management systems that will pave way for steady revenue, digital marketing and a strong functional secretariat.