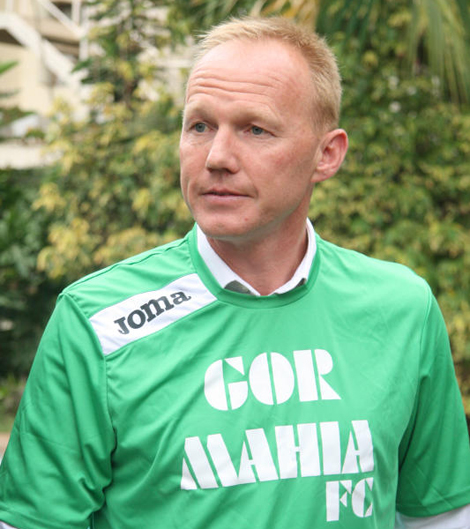 Gor Mahia coach Frank Nuttall has added his voice to those seeking sponsorship for Gor Mahia.  According to Nuttall, the working conditions are difficult due to the financial constraints faced by the club.
I have been trying to improve and professionalize our training environment since I came to the club but for various reasons, including financial limitations, I have been unable to do so.  I believe if we get sponsors to take care areas such as training ground, training equipment, gym and first aid kits supplies, it will be a big boost to us," said Nuttall to the club's site.
The coach appeared to re-iterate what was posited on this blog yesterday which is that the club need not find a big sponsor. They can work with smaller sponsors as well.
"If we can have various sponsors working with us, it will be great. It doesn't have to be a big sponsor. Interested companies or individuals can come on board to work with us. The sponsors will gain by getting the much needed visibility through the team and its fan base. Their help will enable me to implement my plans. I want to move the club forward,"
It is good to see the coach showing this kind of passion and commitment to the club.
He is right. Gor Mahia need not find a big score sponsor like Tuzo or Molo milk. The club can seek out smaller sponsors and work with multiple sponsors. Certain clubs in Europe have multiple jersey sponsors and even short sponsors such as the one below.