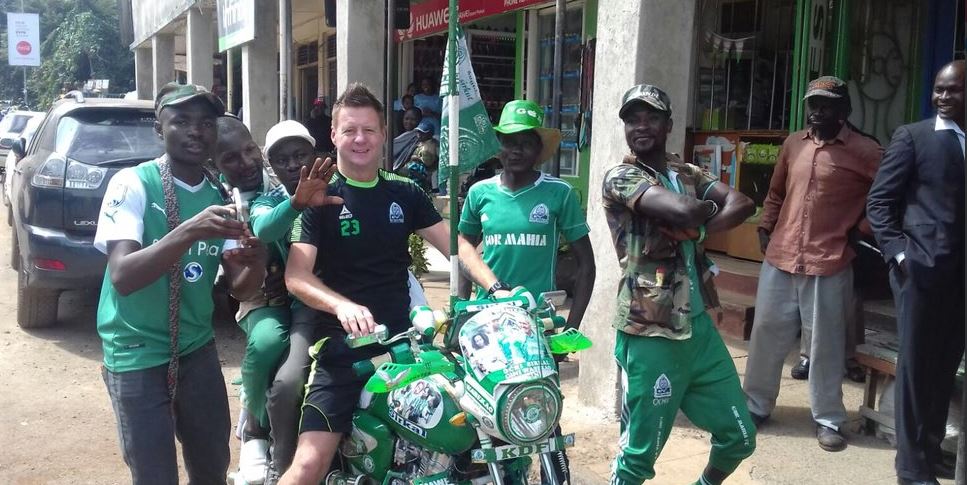 Gor Mahia coach Dylan Kerr who has led the club on a march of 12 matches unbeaten has indicated to a Scottish newspaper that he would be open to the position at Kilmarnock FC.
He told SunSport: "I won't apply for the manager's job at Killie. I've got a job and that would be disrespectful to Gor Mahia who are a wonderful club.
"But if they wanted to speak to me? I'd swim the Med to talk to them.
Kerr played for Kilamarnock for four years between 1996 and 2000 and made 61 appearances for the club. He has followed the club's fortunes closely since leaving.
"They know me, they know my feelings for the club. "I feel for Kilmarnock. They can't go down, a club like them.
"Being there was a fantastic spell in my career. I'd four years there and we won the Scottish Cup and qualified for Europe twice.
"I don't know if people remember the kind of person I was and think I don't take things seriously enough. But I've grown up — a bit, anyway!
Kerr says his experience coaching all over the world has prepared him for the job.
"I've sampled management all over the world — in Vietnam, the USA, South Africa, Tanzania, England and now Kenya. "But the last four jobs I've applied for in Britain I didn't even get an acknowledgement
"My attitude has always been that if I see something that's appealing, I go for it. That's why I was at Chesterfield as a youth coach, why I was at Simba FC in Tanzania."
"I've worked my way through the levels, whether it was being the first non-Asian coach to win a trophy in Vietnam or working here in Nairobi, where you're one of the very few white faces.
Kerr spoke about his accomplishments and experiences in Kenya.
"People think, 'It's Kenyan football', but there are pressures. Gor Mahia are one of the biggest clubs in the country and when I joined I was told the job requirement was to win the title.
"I signed a two-year contract and my ambition is to get the club into the African Champions League group stages, which Gor Mahia have never done before.
"I'm proud of what I've achieved but most of it has happened far away from Britain."
Given his recent success at Kogalo, Kerr is likely to be a hot commodity. If not Kilmarnock then even other clubs in Africa including Tanzania will be looking for his signature.