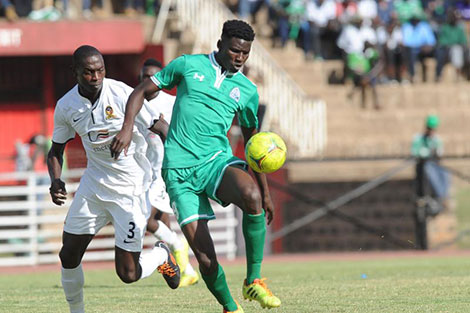 Gor Mahia coach Frank Nuttall has thrown his weight behind towering Gor Mahia striker Mike Olunga. Though Olunga missed numerous opportunities in the DSTV shield match against Sofapaka and against CNaPs, Nuttall believes Olunga has been very useful to the team.
"The job of a striker is not only to score but to create opportunities for other players. I'm really impressed with Olunga's focus of running through off the ball and support he offers to the team.
"I'm a believer the more chances a striker get the more experience they gain and they make some evaluation from that. I'm sure that's what Olunga and other strikers are going," Nuttall told Capital Sport.
Nuttall noted that Olunga is still inexperienced and will only grow in stature once he develops poise in front of goal.
"He has the ability to get in scoring positions and as well as that, he is young and fairly inexperienced and has played well. He is one of the players that we can look upon to in our squad selection," the coach said to capital FM.
Olunga faces a tall order in trying to replace supernova Dan Sserunkuma who set an very high standard during the three years he played for Gor Mahia. Whenever he played, Sserunkuma was always the most efficient scorer in the entire league.
Olunga's strength appears to be his ability to make life difficult for defenders when he makes charging runs into the box. He always draws multiple defenders and with the ball within his range, he is a nightmare for defenders often resulting in penalties. His knack for running onto long balls is reminiscent of the legendary Peter Dawo.
Former Gor Mahia coach and defender Sammy Omollo "Pamzo" noted that Olunga was very comfortable chasing long balls but appeared uneasy when the ball was played to his feet.
The good news for Olunga is that with the availability of Meddie Kagere starting this weekend, there will be less pressure on his broad shoulders. Playing under less pressure could be medicine Olunga needs finally gain confidence and poise. There is now work ahead for Nuttall to find ways that Olunga and Kagere can play together. Olunga draws defenders wherever he runs and could be useful decoy for Kagere.
And Olunga is very tall and could therefore be very useful in converting crosses into goals just like Dawo did in his heyday. And once again the man to work with him in this aspect of his game is Nuttall. Olunga is still young and can learn to put his height to use.  Both Walusimbi and Nigiziyimana are good crossers. If they can pinpoint Olunga the way Sammy Onyango used to find Dawo with pinpoint crosses and if Olunga can work on his aerial and heading skills then he could offer Gor Mahia more options in attack.