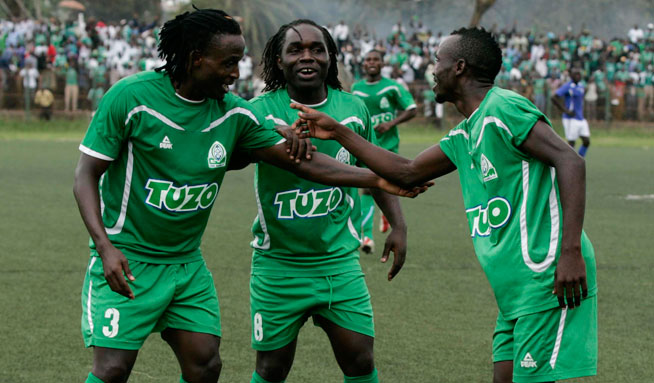 It cannot be gainsaid that the Ugandan Cranes trio of Dan Sserunkuma, Godfrey Walusimbi and Geoffrey Kizito have played pivital roles in Gor Mahia's success in retaining the league in 2014.Their superb play on the field, professionalism and commitment  has been noticed by fans and highly appreciated. They have set an excellent example for the rest of the playing unit. But their success on the field has also attracted the eyes of other teams.
Club official Ronald Ngala, fresh from his success at the KPL awards indicated that the club is busy trying to retain the three players.
"Sserenkuma has showed willingness to remain at the club while Kizito has given us some conditions that we believe can be met," Gor Mahia's Deputy Secretary General Ronald Ngala said,
"We are in discussions with the two players and we strongly believe they'll be with us next season. Our fans should not be worried, we will have a better squad next season,"
"All the other players who are out of contract are willing to renew and therefore there's no need to worry. we've got this," he  said to kplchat.com
Kizito attended trials with a Vietnamese side while Sserunkuma has attracted the eyes of Sudanese side Al Ahly Shendy, Simba or Tanzania and Kaizer Chiefs of South Africa.
Cranes Eliminated
All three players features as Uganda Cranes suffered yet another heartbreak in their attempt top qualify for the Africa cup of nations after a 36 year hiatus. Of all the teams in CECAFA, Uganda and Rwanda have taken the longest to qualify for Africa's premier event.
All three received poor ratings from Uganda's newspaper the monitor:
Godfrey Walusimbi 3
Got early jitters at left-back from Ibrahima Conte, settled in briefly, but later ran out of ideas.
Geoffrey Kizito 4
He just had a bad day in office. Baba imposes his presence on games but his passes were mostly square and the Gor Mahia player barely found midfield partner Mawejje.
Daniel Sserunkuma 4 (Substitute)
When Mwesigwa's actions wrecked the plan, dread-locked Sserunkuma found it hard to link up from the middle. Still, he was an improvement on Miya.
The ratings from Kawowo sports were only slightly better:
Godfrey Walusimbi 5.0: Started the game on a slow note being turned in and out by man of the match Ibrahima Traore. Lucky not to be booked after a number of fouls but grew in stature in the second half though his side was more of an avenue for the Syli Nationale.
Geoffrey 'Baba' Kizito 5.0: Struggled against the quick passing Guineans and provided less cover to the backline.
Daniel Sserunkuma 6.0: Came on for Farouk Miya and gave Uganda some momentum in attack but it was too little too late. He is the only player who registered a shot on target for Cranes.
All in all the Cranes had a bad day at the office with the exception of keeper Dennis Onyango who was rated highly.