Gor Mahia fans took to social media to attack British Newspaper , the Daily Mail for referring to Kogalo as "An unknown team".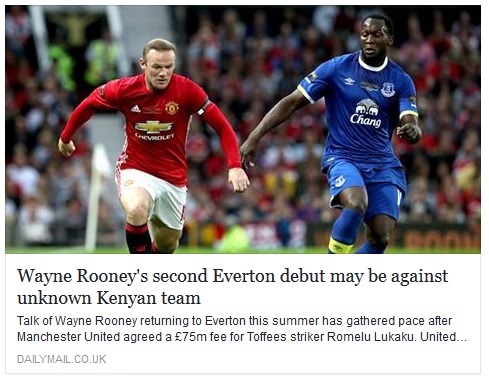 "Interests has grown as to who will be the first opponents to an Everton side featuring Rooney and they could be an unknown team from Kenya." said the article.
But a barrage of social media comments using the hash tag #someoneTellDailymail from Kenyans forced the British media outlet to perform more research on Kogalo. They later did some research and bolstered their article with more information about Kogalo. Below is a sample of the tweets.
#SomeoneTellDailyMail 'little known ' my foot. Gor mahia is a big team

— Evangeline karimi H (@Evangelinekari5) July 7, 2017
#SomeoneTellDailyMail Gor Mahia cannot be referred to as 'little known' when we keep shining in this region. #Sirkal

— Tom Bwana (@TomBwana) July 7, 2017
#SomeonetellDailymail That @Lupita_Nyongo is not a Mexican actress whose parents were Kenyan refugees. What is this?? http://t.co/U8l7qlLAqC

— Pauline Njoroge (@paulinenjoroge) January 17, 2014
#Someonetelldailymail @OfficialGMFC is a well known club @DailyMailUK @kot pic.twitter.com/p9ugzaS8Eq

— mugendi wa Kinyua (@martomuge) July 7, 2017