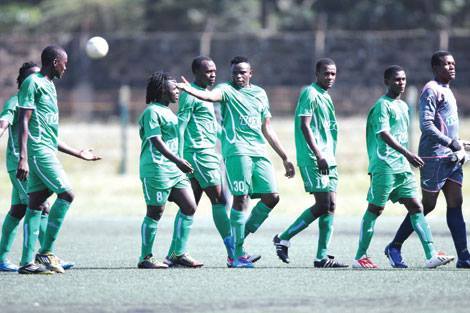 Following the debacle against bottom-side Top Fry Nakuru All stars, Gor Mahia fans will be hoping that the team has put aside whatever issues they had and are ready to bounce back. To this point it is not clear what happened but something has clearly been amiss over the past two matches.
Coach Bobby Williamson is categorical that the loss to Nakuru  was simply due to players under-rating the opposition.
Gor Mahia coach Bobby Williamson has said his team is determined to bounce back to winning ways after the team fell 2-0 to Nakuru Top Fry on Saturday away. It was the first loss by the league champions and it has no doubt raised alarm bells at a club that is used to winning and losing remains a foreign word. "We are looking forward to bounce back to winning ways after that poor performance in Nakuru. Our players seemed to underrate All Stars and we paid for it dearly" he told the Standard.
If the above is true, then one only hopes that coach Williamson will pysche up his players properly for future matches.
Not an Easy Match
 2012 league winners Tusker are atop the league and will be eager to put some distance between them and their main rivals. They are sure to come out all guns blazing. Under new coach Francis Kimanzi, they have been playing good football. In Brian Osumba and Clifford Alwanga they have a dependable forwadline that is ably supported by former KPL player of the year Kevin Kimani.
Matches against Tusker are always difficult for Gor Mahia. Last season, Tusker almost derailed Gor Mahia's march to the title when they beat Gor Mahia in a critical league match.  Therefore neither coach Williamson nor the players will be under any illusions.
Fans will be hoping that the team comes to this game determined. After the disasters against Esperance, Nakuru All Stars and Tuzo, fans will have difficulty absorbing yet more bad news.
Injuries
David Owino, (ankle injury) goalkeeper David Juma (collar bone bruise) and midfielder Antony Akumu (back injury) will all be out with injuries.
Starting Line-up
1. Fredrick Onyango. 19. Solomon Nasio. 4. Kevin Oluoch. 18. Haron Shakava. 2. Godfrey Walusimbi. 3. Baba Kizito. 17. Eric Ochieng. 9. Shaban Kenga. 11. Innocent Mutiso. 14. Kevin Omondi. 8. Dan Serunkuma.
Reserves: 23. Joel Bataro. 27. Simon Pierre. 25. George Odhiambo.  30. Patrick Onyango. 20. Joseph Kariuki. 10. Daniel Onyango. 21. Rama Salim.