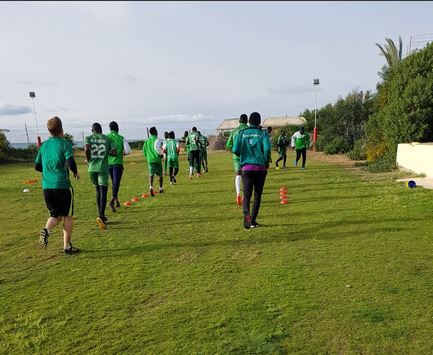 Gor Mahia will make a return to their spiritual homeground of Kisumu this weekend. It has been a long hiatus as they have played most of their matches this season in the unfriendly confines of Machakos.
This Saturday they take on newly promoted Vihiga United. The kickoff is scheduled fo 3pm on Saturday according to the KPL website.
Coach Kerr will be leading his charges as he looks to put aside the shenanigans within the club where an official is said to have threatened him with the sack. Apparently Kerr was given an ultimatum by a club official which involved sacking.
However secretary general Ronald Ngala who seems to be one of the few level headed officials, moved to assuage such concerns.
"An ultimatum is a big thing that can come from either the club chairman or Secretary General. What you are seeing is just noise by an individual; if we had a problem with him (Kerr), you will definitely know. he told goal.com
NgalA did say that every official has a right to speak out.
"Everyone has a right to say what he/she feels, but that does not necessarily reflect the club's stand. Right now we are preparing for our continental assignment and that is all we want to focus on." he said.
But this dysfunctional behavior where officials speak their mind and attack other officials in public cannot be good for the club. Unfortunately the club still has an archaic constitution where it is run by volunteer individuals who don't necessarily have the skills to run a club succesff
Matchwise, Kogalo cannot afford to slip up. Any negative result could hand the league lead to their arch rivals. As for Vihiga, they will be all guns blazing since they have yet to win a match and are second from bottom. Gor Mahia need a morale boosting win as they prepare to take on Supersport United of South Africa in the CAF  Confederations cup.