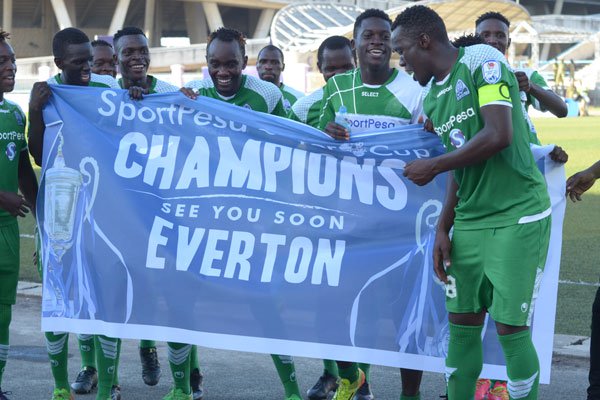 Gor Mahia team manager Jolawi Obondo says the team is raring to go and cannot wait to play English premiership side Everton.
"It is not going to be easy, it will be tough to play them (Everton), but who says they are unbeatable? We want to beat them and prove that we have good talent here, it is going to be a good match. he said to goal.com
Everton were impressive this past season, finishing in 7th place out of 20 teams with 61 points (17 wins, 10 losses and 11 draws. They are coached by former Dutch international Ronald Koeman who is assisted by his twin brother Erwin Koeman, also a former international. Their squad includes such stars as Romelu Lukaku and Kevin Mirallas.
Chairman Ambrose Rachier wants Everton to know that Gor Mahia will not be approaching the match as underdogs.
"We are excited to the there to play. It will be a great and historic event and we are looking forward to it. Please tell the world that Gor Mahia are not underdogs heading into that match" Gor Mahia chairman Ambrose Rachier told Nairobi News
Meddie Kagere, who won the golden boot award, is also looking forward to an opportunity to play Everton.
"Everyone has contributed to our success and the best thing is that we have managed to win the competition. It was not easy though; our focus will now be on Everton, it is a privilege to play them and learn from the best. We will continue doing our best in all competitions because we want to keep developing as a team." he said to goal.com
On reports that he might be leaving for Yanga, Kagere told the Daily Nation that he would be open to such a move.
"For me what matters is my job. Wherever it calls I will go. I won't mind playing in the Tanzanian league. It will however depend on whether Yanga and Gor Mahia agree on terms since I am still contracted to them."
"I know their league starts in late August. Let's see whatever comes whether I can join them at the start of the season or not," stated Kagere.
Yanga Secretary General Charles Boniface Mkwasa, eager to appease fans after their poor performance, hinted that they might go shopping for a striker once the Tanzanian transfer window officially opens on Thursday.
"We are in the market shopping for various positions. A striker tops our list, a winger and a left full-back. We've managed to fill a few gaps as recommended by the coach but we shall reveal all businesses once the window opens.
"I personally watched Gor Mahia play, they had quality players. I wouldn't narrow down on an individual at the moment," the former Taifa Stars Head Coach told Nation Sport.
Among the players who left Gor Mahia to play in Tanzania includes Mungai Kiongera, Dan Sserunkuma, Rama Salim and Donald Mosoti.
Meanwhile new AFC coach Doran Marin has backtracked from his claims about being sure of beating Gor Mahia. He now says he was just finding ways to motivate his side.
"I knew it was going to be a tough call for us but I had to motivate my players and instill that winning mentality in them. This is a big team and I fail to understand what those before me were doing. Anyway it is my job to turn the fortunes around and I am sure we will make this team great again." he said.