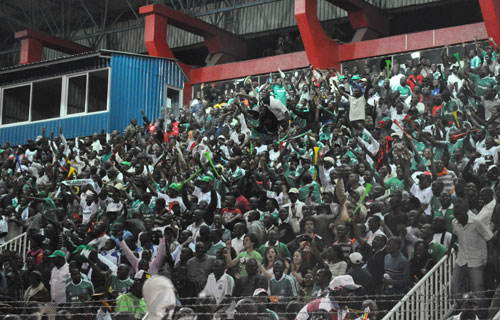 Courtesy of michezoafrika.com
Football Kenya Federation (FKF) has announced the formation of a Special six member Independent Displinary appeals Tribunal (IDAT), a supreme body appointed to listen to Gor Mahia's appeal against an IDCC ruling that banned their fans from attending their home matches for the next three fixtures.
This was announced on Saturday by FKF Chairman Sam Nyamweya who acknowledged receipt of the club's appeal submitted on Friday. In a statement to the media, Nyamweya said
"In the mean time as the appeal process is expected to start, the club fans can continue to attend their club home matches until the appeal is heard and determined," he said
"But we warn the fans that if any repeated incident of hooliganism during their current matches will be witnessed, the federation will have no option but to impose further sanctions, so we appeal to their fans to be of good behavior." Nyamweya added in the statement.
Nyamweya continued to say that his Federation is aware of efforts by some of the club officials to curb incidents of hooliganism seen during their last matches. He said the Federation is optimistic that the "club is capable of policing themselves."
Gor Mahia's next match at home is against Nairobi City Stars at the City stadium next weekend.