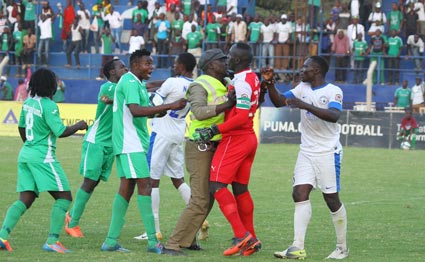 The FKF has banned Gor Mahia fans from attending the remaining two matches of the season. This means that Gor Mahia will not be able to count on the 12th man during the last two matches and should they win the title, the presentation will be in front of an empty stadium, a starke contrast to the festivities of 2013.
Gor Mahia have also been fined KES 500,000 and have been ordered to turn over the fan   who reportedly accosted Sofapaka goalkeeper David Okello. This is actually a good thing because any steward who does not have enough common sense not to get himself in that kind of trouble probably should not be around the club.
Poor Security and poor policing
Sofapaka for their part have been fined KES 300,000 for failing to provide sufficient security as host team. Speaking of security, a section of the fans has come forward to accuse the police of poorly handling the situation. "Without provocation, the police indiscriminately fired teargas canisters into the crowd in complete disregard of the safety of the fans who among them consisted women and children. This would have led to a stampede and we can only be left to wonder what the consequences of the same would have been given the massive crowds present" said a fan as posted on futaa.com. It appears the standard police response is to always toss tear gas canisters into the crowd even on the peaceful section of the stadium.
Suspicious elements
A section of fans have also pointed an accusing finger at the so called hooligans who exhibited behaviour that is atypical pf football fans even the worst hooligans. Such behaviour included breaking into certain buildings, looting.
Some fans stated that a group of local thugs were on hand to confront the fleeing crowds at the exit; one wonders if the series of events was a mere coincidence or premeditated by certain forces hell-bent on soiling the name of Gor Mahia.
Nyamweya promises harsher sanctions
FKF chairman Sam Nyamweya has warned that from next season, the federation will take more drastic action against clubs whose fans cause trouble during matches. "We have a proposal to deduct 15 points from clubs whose fans cause trouble. We are going to discuss it in our general meeting and implement it from next season," he said.
The problem with this proposal is that a team could be sabotaged by opposing fans or by hired thugs.
He also said Machakos Governor Alfred Mutua had no authority to fine Gor Mahia Sh10m for the damages caused in his county. "He has a right to ban the club from playing in Machakos, but he has no authority to fine them. He should have consulted us before announcing a Sh10m fine on Gor Mahia.
Indeed it is rather shocking that governor Mutua rushed to judgment. And the figure he arrived of KES 10 million does not seem believable.
Gor Mahia to hold presser
Gor Mahia have announced on the club site that the club executive committee will hold a press briefing on Wednesday 29th October 2014 at the club secretariate located at Nyayo National Stadium starting 2:30pm.
There is a lot of damage control that needs to be done. Literally every rag and every news outlet has jumped on the bandwagon of pouring scorn on the club.