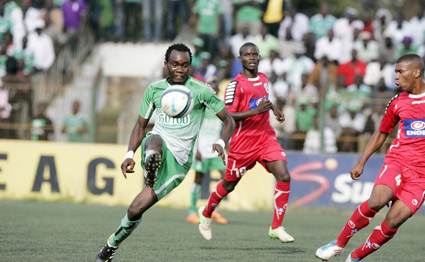 Gate Collections from Ulinzi match
Gor Mahia dropped 2 crucial points against Ulinzi. But on a positive note for Gor Mahia, the match raised Ksh 648,150 in gate collections. This according to goal.com This amount is 20% higher than typical midweek collections which are usually less than Ksh 500,000. Not a bad result for a match that kicked off on a Wednesday at 4pm. This year Gor Mahia has played an inordinate amount of midweek home games.
Out of that amount, the club took 372,650 while the rest went to statutory deductions.   Ticket charges were Kshs 600 for the main stand (VIP) and Kshs 300 for the terraces.
Chemelil Up Next
Gor Mahia will next take on Chemelil on Saturday at 3pm. Gor Mahia fans will be hoping to put Chemelil coach Mike Mururi in his place. He is the one who claimed that referees have been helping Gor Mahia in the league.  Interestingly, Tusker official Leonard Odipo also claimed that referees were helping Gor Mahia. This has now become a theme by officials of other teams who are clearly trying to play mind games with referees.
Nevertheless, the match against Chemelil will not be easy. They are having what is probably the best season they have had in almost a decade.  In fact former Gor Mahia striker Goro Oronge thinks Chemelil will win the league. Oronge said the fact that Gor Mahia had two matches in hand was of little consequence, given the quality of all the teams contesting this year's league. Oronge thinks Gor are still capable of slipping up and expects Chemelil to exploit that as the season draws closer towards its business end.
Oronge states that because there is a dearth of scoring in this year's league, every team has a chance. "During my days in Gor under the then head coach Len Julians, virtually every player could score. It was not a case of individual players trying to shine and earn credit but winning those days had everything to do with teamwork and a good goal-scoring system in place," said Oronge, who felt this was an aspect that all clubs were struggling with this term.
It is this lack of scoring that Gor Mahia will need to fix. The club is going through a dry spell in gaolscoring. In fact the last time they scored during the run of play was against AFC on July 27. Gor Mahia have scored only two goals in the last four games. One from a free-kick and one from a penalty.
Hopefully the club will soon come to term's with coach Nuttall's tactics. The new coach will also need to bring some poise and composure to striker Timothy Otieno and possibly help Blackberry regain his form of old. The good news is that Gor Mahia has a much better against Chemelil than they do against either Ulinzi or Tusker, especially at home.