Gor Mahia striker Dan Sserunkuma had a phenomenal season in which he finished atop the Tusker premier league scorers chart with 16 goals. He was consistent throughout the season and when he was not scoring goals, he was setting up his strike partners with scoring chances. It stands to reason that he would be considered among the candidates for the player of the year , a title he won in 2012.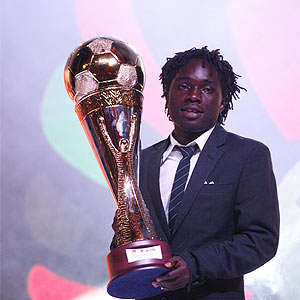 When the list of nominees came out however, Sserunkuma was not even listed among the candidates. A report on goal.com suggests that some coaches conspired to lock out the Ugandan talisman apparently because of what they called "the controversial nature of his goals"
"He (Sserunkuma) may have emerged top scorer but we also looked at how some of the goals were scored. Out of 16 goals, he scored three penalties and in our opinion some were not genuine. Furthermore, we felt that some of the goals he scored were from off-side position. If referees did not see it, we did and took note." said a coach who sought to remain anonymous.
These kind of wild claims are reminiscent of Chemelil coach Mike Mururi who claimed that Gor Mahia wins because they get help from referees. At this rate it would have not come as a shocker if they gave the golden boot award to someone else.
Sserunkuma and his team-mate Goeffrey Kizito did not attend the ceremony as they were away with the Ugandan national team which was attempting to qualify for the Africa cup of nations. Unfortunately there was further disappointment as the Cranes once again fell short at the last hurdle.
Gor Mahia must find accommodation for Frank Nuttall
Frank Nuttall is away in Scotland for a 6 week holiday. The Scottish coach has been living in a hotel since his arrival in Kenya. The house he is supposed to occupy is still being occupied by former coach Bobby Williamson while Nuttall's hotel bill is paid by the FKF.Williamson for his part cannot move because the house he is supposed to occupy is still occupied by former coach Adel Amrouche. Its is a mess at FKF.
However reports suggest that Nuttall is tired of hotel life and says  he will not live in a hotel when he returns.
"Nuttall has made it clear that he does not want to stay in a hotel when he comes back. It is a tricky situation for us because we cannot evict Williamson." said a Gor Mahia official.