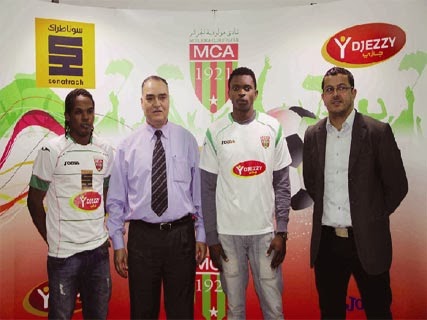 courtesy of goal.com
The ex-Gor Mahia and Harambee Stars' towering striker is among 14 players released by the Algerian club hardly six months into his two year contract
Former Gor Mahia striker Edwin Lavatsa has been released by Algerian club MC Algiers. Lavatsa is among 14 players released by the club hardly six months into his two year contract.
According to several Algerian news channels, the club was keen to have a lean squad of 25 players. Lavatsa is particularly blamed for serious mistakes which cost the team in the just concluded season.
"Mc Algiers has decided to release half of its work force as they prepare for the new season," said the news sources.
Lavatsa reveals why he was dropped
Lavatsa says that an ankle injury and change in the coaching department is the reason he was dropped by top Algerian club MC Algiers.
"I sprained my ankle four weeks ago and it became difficult to train. The club called me and gave me an ultimatum, either to take a huge salary cut or terminate my contract and get paid half of its remaining value. I opted for the latter," Lavatsa told Goal.
He added: "Things were made even more difficult by the fact that the coach, who signed me was fired and the new man in charge wanted fit players."
The former Gor Mahia hit man also hinted at challenging conditions in Algeria insisting that it was difficult for him to stay in the club.
Regarding his future, Lavatsa said he has had contact with a Belgian club and intends to travel there in the next two weeks.
"The Belgian club are aware of my injury and have accepted to give me a chance. I hope it goes well. It is disappointing that it as come to this but then again this is reality we have to live with."