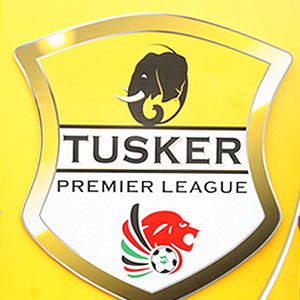 Gor Mahia have raised the red flag with regard to poor officiating in the Kenya premier league. Club official Ronald Ngala says there is too much poor officiating and nothing is being done about it.
"This issue of poor officiating is becoming too much now and it is being caused by unqualified referees. Every time we complain no one lends an ear to our complains," Ngala told goal.com on Monday.
Ngala also took issue with the fact that four out of seven of the club's matches have been officiated by one referee.
"We also take issue with the fact that in our seven matches, four of them have been handled by one referee. This clearly shows that there is a big problem."
An FKF official confirmed that they have indeed received complaints from several clubs.
We have received a letter from Tusker and understand that several clubs are not happy with officiating in Kenyan Premier League.
"One thing is for sure; all referees in KPL are not qualified because they are either retired or those who have not undergone PET test. We will have to look at the issue if we get more clubs complaining to us."
The official further went on to say that another test will not be conducted until June.
The League's reputation is at stake
According to the Daily Nation,none of the 16 centre referees, 24 assistant referees and 16 match commissioners drafted to officiate in this season's league matches are accredited by Fifa.
In contrast, Kenyan referees who are sanctioned by Fifa continue presiding over matches in the Football Kenya Federation Premier League.
The head of FKF's Technical Committee, Elly Mukolwe, on Monday confirmed that none of the match officials under the KPL roster has undergone the mandatory tests required of top flight league referees, which is a violation of the Fifa statutes.
"They know the truth. I can say without fear that many of those referees have been brought back from retirement. Some failed even the local Member Association fitness test," he said.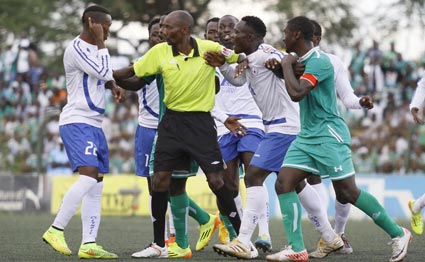 Poor officiating is a stain on the league's reputation. If the league is perceived as poorly officiated, the resultant public relations stain can affect public interest, sponsorships and attendance. But even more importantly, the league aficionados should understand that football is an emotional sport and poor officiating can lead to crowd trouble. And this is not unique to Kenya.
And the club officials are best placed to handle this issue. Ambrose Rachier is after all the current KPL chairman. Officials of all clubs have a direct say in how KPL is run and can petition FKF for better referees.
But the club's reputation is also at stake
It appears that many fans have still not learned from the travails that the club has gone through over the past year. Club officials have gone from one corporate to another seeking sponsorship to no avail. One of the key reasons the club cannot garner sponsorship is precisely due to crowd trouble both inside and outside the stadium.
What is worse is that this time, the people who tossed foreign objects into the field were fans in the main stand and not fans in Russia. You would typically not expect this kind of behaviour from fans who sit at the main stand. These are the fans who should understand the club's precarious situation.
There are literally hundreds or thousands of the club's enemies who cannot wait for slightest sign of crowd trouble to flock to social media to besmirch the club. Some of this politically and/or tribally motivated. These kind of people were actually disappointed when the recent mashemeji derby came and went without incident.
The fact that Mathare United recently penned a ksh 75 million sponsorship deal despite not having a fan base and despite not having the history or pedigree of Gor Mahia should have made it obvious to fans now. Mathare got the sponsorship with very little effort because they have an excellent reputation. Media reports suggest that it was Britam who came seeking a partner. Under normal circumstances, companies would be lining up to sponsor Gor Mahia.
Aside from sponsorship, the club could face the real prospect of being punished by losing point or having to play in an empty stadium, something that the club cannot currently afford. There is also the possibility of sanctions from CAF or FIFA.
It is understandable that fans would be unhappy with poor refereeing. Football is after all a sport that can engender all kinds of emotions. But given the club's current situation, fans ought to know better.