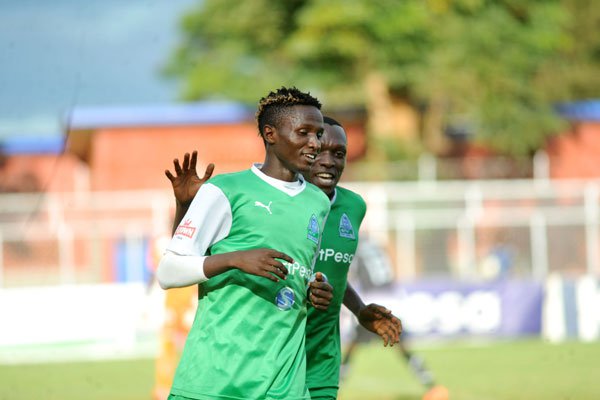 Kenneth Muguna is back training with his former team-mates. And he is looking forward to picking up from where he left off at the end of the 2017 season.
"Finally It feels good to be back home. I got a warm welcome so I am just waiting for the job to begin," Muguna told goal.com.
Muguna joined former Kogalo coach Ze Maria at KF Tirana along with Musa Mohamed. But their stints were unhappy. First Musa left due to a pay dispute. Then Muguna left in Mid 2018 as the club appeared not interested in signing him to a new deal.
"I have been training at Buruburu and maintained athlete discipline but being out of competitive football for over a month means I have to work hard to be in top form again. By the time the new season kicks-off I should be in my real self," he said to Citizen Sports
And now coach Ze Maria has also been dismissed.
Muguna who was born in Kisumu, started his career are Western Stima. While there he earned KPL midfielder of the year honours, before joining Kogalo at the end of the 2016 season. He was a favorite of coach Ze Maria and found his way to the starting line-up of the national team.
However Muguna knows that he will have to convince the new coaching staff of his abilities.
"What I gave before I left for Tirana is a past tense, I have to work hard and write a new story at the club," Muguna told Citizen Digital.
Muguna thinks his stint in Albania has made him a stronger person which will manifest itself in his performance on the pitch.
"I learnt a lot, the lessons go beyond my football life. That is a different set up by all standards, including culture and style of playing. Being away from home teaches you lessons that you cannot get locally with all due respect to local clubs. I hope the experiences make me a better person and player as I return home,". he continued.
He noted that even in Albania which is one of the poorest countries in Europe, the structures are much better than in Kenya.
"It is not the players who are very different from ours here in Africa, it is the investment for the sport all round. For example, most clubs there have their own stadia and training grounds. They have hotels for their teams and proper kitting, some of the things that ease the aspect of playing and training," he said.
When Kogalo last played Everton in Dar es Salaam, Muguna was one of the best players on the pitch and he is looking forward to once again putting his best foot forward against the EPL side.
"As a player, it is always a pleasure when you play against big teams and from big league. More so, this (Everton game) is a career building match, but we'll just approach it like any other game without any fear."