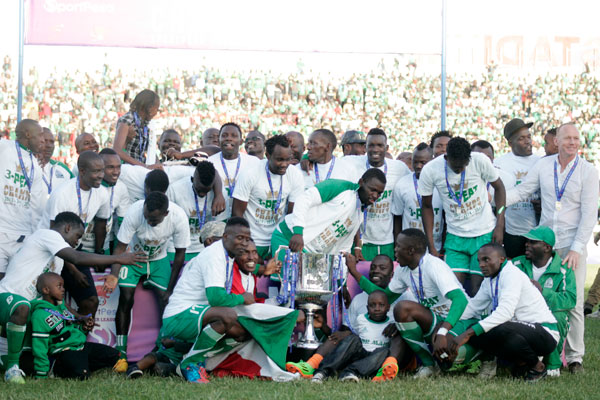 To say that Gor Mahia has had a successful 2015 season would be an understatement. It is especially impressive considering that in 2014, Gor Mahia lost a whole host of players who had been the backbone of the team. Dan Sserunkuma, Geoffrey Kizito, Rama Salim, Edwin Lavatsa, Paul Kiongera, Shaban Kenga, Timonah Wanyonyi, Anthony Akumu and Kevin Omondi among many others left at various points during the season. To make matters worse, coach Bobby Williamson also left in August. However with decent planning and recruiting, Gor Mahia recovered and had what can only be described as a spectacular season, perhaps second only to 1987 when Gor Mahia won the Africa cup winners cup, the league and the Moi Golden cup (now known as GoTV shield).
As things stand now, the season is coming to an end. Once again many players are set to leave. The contract of Geoffrey Walusimbi who has played a pivotal role over the past two seasons is coming to an end. Walusimbi has been instrumental with his all round intelligent play, tactical awareness and brilliant passes near the penalty box that often result in goals.
Meddie Kagere whose goals have been instrumental and who has given fans plenty to remember, also has a contract that is coming to an end.
"I cannot comment on my future, because I also do not know whether I will be here next season or not. Let us finish the season before thinking about the future, but the truth is, I have enjoyed my stay at this club. I have not felt good when I finish the match without a goal. My job is to score goals as well as create chances for my teammates to score. So when I fail to do any of the above, it really saddens me, and that is why I work hard for my team." said Kagere to goal.com
Another key player whose contract is ending is George Odhiambo "Blackberry".
"My contract ends out and I am not very certain I will still be in Gor next season. There are a number of offers which have come from Europe and I will look at all of them and see what is good for me and make a decision," he told Soka.
The performance of several Gor Mahia players has caught the eye of several teams in Zambia, Tanzania and South Africa and the
Gor Mahia has had a formidable unit in 2015 . If the core of this team is kept together for 2016, they could reach even greater heights. Now Kenyan team has reached the second round of the African champions league. Gor Mahia could be the first. With a bit of luck in the draw, they could even reach the group stage. In 2015, Gor Mahia lost narrowly to AC Leopards yet they were forced to play without key players like Kagere, Nizigiyimana and Sibomana. Perhaps even more important is to keep the services of coach Frank Nuttall whose tactical brilliance surpasses any coach in Gor Mahia's history.
Gor Mahia will need to work overtime to keep the core of the team together and also to recruit players who are capable of stepping into the breach and effectively replacing the players who are set to leave.
To keep the core of the team intact will require a lot of planning on the part of the officials. Once again all the financial initiatives that were initiated to keep the club financially moribund have seemingly fallen by the wayside. The SACCO, the #35010 paybill number, the membership drives, Gor Mahia bread etc, are no longer being promoted much as this columnist predicted in July. The chairman will need to bring these initiatives back to the forefront.
Ambrose Rachier performed well in his capacity as club chairman in 2015. We hope that his campaign for the FKF chairmanship will not distract him from the planning that the club needs for 2016.