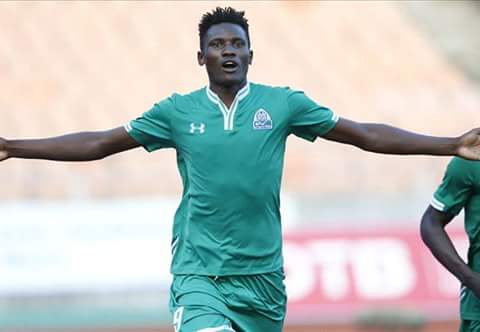 South African side Bidvest, have offered fast rising Gor Mahia striker Michael Olunga a contract worth Ksh 12 million per year. They had earlier tried to sign Allan Wanga.
"We got an email from Bidvest offering to pay Olunga a Sh1million per month salary for an initial period of one year. We are looking at the offer but no decision has been made yet," one of Olunga's handlers exclusively told goal.com on Wednesday.
The agent stated that Olunga could never play in Tanzania.
"We are very categorical that he will not play in Tanzania. His standards are higher than what we see in that league and our best bet is Europe." he continued.
Olunga's sudden rise has been nothing short of meteoric. The last time a Kenya striker commanded such attention was in 2003 with Dennis Oliech. Olunga is finally fulfilling the potential that some experts saw in him when he played in the national schools tournaments in which coach Mohamed Kheri annointed him a a "future Mike Okoth Origi".
Former Gor Mahia coach Zedekiah Otieno has advised all Gor Mahia players not to consider Tanzania as a destination.
"Players, who tried it in Tanzania, failed miserably, and they had to struggle to bring their careers back on track. Just a few have made it there, but look at recent cases, Dan Sserunkuma, Donald Mosoti, Humphrey Mieno, George 'Blackberry' Odhiambo even Rama Salim have struggled there," 'Zico' told goal.com .
Zico advises players to focus on working on their skills and target playing in a more competitive league.
"It is not a bad league, we know of its quality, but it is just not meant for our players. All I can advise them is to be patient, and wait for an offer from Europe, and that will be good for them. If they become greedy, it might cost them. In football, if you make one wrong move, then you are doomed."