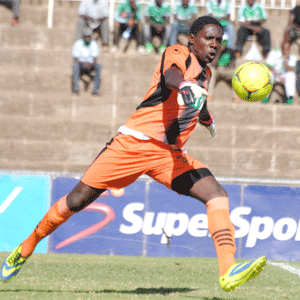 Gor Mahia goalkeeper Boniface Oluoch has recently announced that it was he who opted out of the match against Chemelil Sugar. There were some reports that he was left out of the team as a disciplinary measure due to his scuffle with coach Frank Nuttall.
A report by goal.com suggests that Oluoch asked to be left out.
"The reason he was not started was purely because he asked the technical bench to leave him out as he was still disturbed by what happened between him and the coach on Saturday."  said a source
Oluoch was also fearing for his life.
"Furthermore, he also feared for his life as some fans had threatened to beat him up over the incident with coach Nuttall," revealed the source
Perhaps these threats could have been avoided if the coach was empowered to hand out his own disciplinary measures. Since there are no disciplinary measures, some irate fans have taken it upon themselves to met out discipline and threats.
At Gor Mahia recently a number of players besides Oluoch have fallen below the threshold required for professionalism: Some disappeared for almost two months. Several others came back late for pre-season training. Two others were engaged in a scuffle at the Mombasa aiport.
The Kenyan scene is a stark contrast to the scene in the English premier league where managers are empowered to met out disciplinary measures for the slightest of offences. Below is Arsene Wengers disciplinary sheet courtesy of the Daily mail.
| | |
| --- | --- |
| OFFENCE | FINE |
| Non attendance of unused players at Home matches without permission of manager | £1000 |
| Late for training | < 15 mins £250, > 15 mins £500 |
| Late for treatment/massage | < 15 mins £250, > 15 mins £500 |
| Late for travel | £500 |
| Late for match day meetings / meals | £250 |
| Wrong kit on match days | £100 |
| Inappropriate clothing outside of the dressing room | £100 |
| Outdoor shoes in the dressing room | £100 |
| Newspapers, laptops and phones in the medical room | £100 |
| Newspapers in dressing room | £100 |
| Non production of urine sample for two consecutive weeks | £200 |
| Phone calls in the building (texting allowed) | £500 |
| No participating in commercial activities (including Club Day) | £500 |
This sets expectations among players and enforces a level of professionalism. It would be interesting to find out if Kogallo players still receive their full salaries for the month of January even if they missed half or all of it.
It is a stark contrast to previous years when chairmen like Zack Mbori suspended players for months and even years for indiscipline while coaches like Len Julians read the riot act to players for on the field incidents.