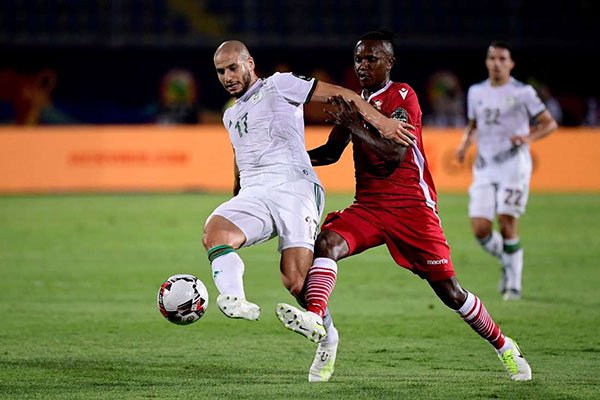 Kenya has participated in the Africa cup of nations five previous times. And each time they have lost the opening game, often in convincing fashion. The 2019 addition of AFCON was no different as Kenya was floored by two first half goals.
Philemon Otieno and Francis Kahata were in the starting line-up. Central defender Joash Onyango was sidelined with an injury. Former Gor Mahia players Michael Olunga, Musa Mohamed and Eric Ouma also saw action.
First a penalty slotted home by Qatari league top scorer Baghdad Bounedjah in the 37th minute. Then Manchester City midfielder Riyad Mahrez scored from a cross in the 42nd minute. And it looked like Kenya was in trouble.
Kenya's defence was at sixes and sevens in the first half. They had acute difficulty dealing with the long balls followed by diagonal runs that the Algerian side utilized. Often the diagonal ball left the attacker wide open with no defender in site, only for the Algerian attacker to miscue his first touch.
Kenya clearly suffered stage fright in the first half and if not for some timely tackles from Musa Mohamed, Philemon, Okumu and Abud Omar, matters would have been worse. They would have perhaps benefited from playing a team that has a similar style to Algeria and in front of a hostile crowd.
Francis Kahata had an off day. Whereas he is very good on the ball, his inability to shore up the defense left a huge gap on the left flank which Algeria exploited resulting in the penalty. To shore up the left flank, coach Sebastian Migne replaced Kahata with Eric Ouma Marcelo.
Algeria also applied the tactic of running at Kenyan defenders then tumbling at the slightest touch. Kenyans did not help themselves as they fell into this trap with a series of rash challenges. One such rash challenge resulted in a yellow card for Philemon Otieno. The second rash challenge from Dennis Odhiambo resulted in the penalty. Why Odhiambo would engage in a sliding tackle inside the box, knowing that the Algerians were falling at the slightest touch left many fans befuddled. Some wondered aloud why former Gor Mahia midfield ace Anthony Akumu was left out. Matters were not helped by the fact that Wanyama does not shore up the defensive midfield position as he once did.
Kenya's performance in the second half was much better. Ouma not only solidified the left flank, he also made numerous forays upfront. The introduction of Johana Omollo created better coordination in midfield and Harambee stars were better able to keep the ball.
Still Michael Olunga never had a shot on goal. He was completely starved of the ball. Often Harambee stars tried to find him with a long ball. But he was often isolated with no team-mate in site to receive a head on pass.
Line-Up
Patrick Matasi, 20. Philemon Otieno, 3. Abud Omar, 2. Joseph Okumu, 5. Musa Mohamed, 21. Dennis Odhiambo, 12. Victor Wanyama, 11. Francis Kahata, 7. Ayub Timbe, 10. Eric Johanna, 14. Michael Olunga
Substitutes
Faruk Shikalo, 23. John Oyemba, 13. Eric Ouma, 15. David Owino, 6. Bernard Ochieng, 17. Ismael Gonzalez, 19. Ovella Ochieng, 8. Johanna Omollo, 16. Paul Were, 9. John Avire, 22. Masud Juma