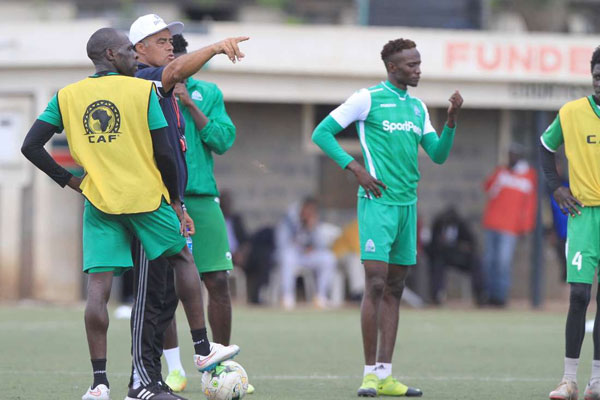 As this weekend's mashemeji derby approaches, coach Steve Polack is expressing his concern about the rate at which Gor Mahia is conceding goals.
"I must admit I am very concerned with how we are conceding goals. I am all concerned about the goals we let in, we were 3-0 up against [Stima] and it is not a good show to allow them back into the game, very unfortunate that you can lead 3-0 and the end result is 3-2, it means there is something my players are not doing right." Polack said to goal.com
Polack has identified the issues that need to be addressed.
"Against [Stima] we let in easy goals, the second goal should have not gone in and overall, we have been repeating the same mistakes which is not good at all especially when you are fighting to retain the league title." Polack continued
Polack says he will spend this week working to rectify the errors that have resulted in the numerous conceded goals.
"We must work hard to keep the ball, and we will work on that this week and the players also need to know in football you must stay on your feet unless you can get the ball and don't go down on your back unless you know you can get the ball and this are the basics we need to work on. We need to train on these basics and everything will be fine." he concluded.
The attack will also need to be sharp against an AFC side that has not been conceding goals of late.
Former Gor Mahia attacker Francis Afiriyie believes Gor Mahia have the key to unlock the AFC defence.
"But playing Kipkirui and Balinya together will put the back four under pressure which might force them into making mistakes that Gor Mahia can capitalise on." Afiriyie told goal.com
Afiryie also offered his tactical prescription
"Gor Mahia have to apply pressure on Leopards in the first 45 minutes; by doing this, they will limit their opponents from attacking freely. However, if K'Ogalo sit back, they will be in problems because of their defence. It is going to be tough, but I believe Gor have a better chance of winning the game." Afriyie concluded.