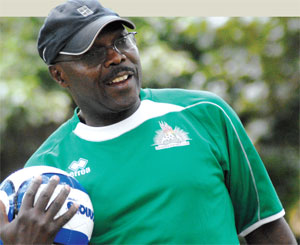 Gor Mahia chairman Ambrose Rachier has indicated that club wil not be able to finalize the list of players by the December 31 deadline mandated by CAF. They will submit a preliminary list of players by the Dec 31 deadline then submit the rest at a later date.
"We are finalizing on the list and I can only be sure about our squad by tomorrow (Wednesday) afternoon. We shall then submit the list of the players we are sure of, and some we will leave open for modification before the final deadline mid next month," he told the Nation.
This means they will be forced to pay a $250 (Sh23,000) fee for any alterations made on the provisional list before the final deadline slated for January 15th.
Rachier was non committal about which players have been signed and which ones are being pursued. He did however state that it has been difficult in the absence of coach Nuttall
"The signing is usually done by the coach and that is why we have not made the new players official. We want to involve the coach in every way and I am trying to process Nuttal's travelling details so that he can come back as soon as possible and also help with the list for submission to KPL at the end of next month," he continued.
When asked which players have been released, he appeared to contradict CEO Ludovick Aduda by denying that Oboya and Mutiso had been released.
The club organizing secretary Ronald Ngala also denied that Mutiso had been released.
The club's Deputy Secretary General Ronald Ngala, also, denied the same only insisting that coach Frank Nuttall wants to review Mutiso's form before a final decision is made on his future.
"We have officially not dropped anyone until January 3. Regarding Mutiso, his contract expires on January 15 and the coach has specifically asked that he looks at him before we make a decision on him.
The truth is that Nuttall is yet to see him in action as the player has spent the whole season on the bench," said Ngala to the Standard.