The dust has finally settled on the much awaited Gor Mahia elections. The event happened without a hitch or without any altercations or violence. Those who lost gracefully accepted the results and those who won vowed to work together for the betterment of the club.
"We must admit the elections met the threshold of a free and fair elections. We didn't witness any acts of violence. The counting process was also interactive and democratic" said Owiye, shortly after announcing the winners.
The registered voters were 3,002, but only 982 turned up for the exercise, which saw Francis Wasuna elected unopposed as the club's senior vice chairman.
Gor Mahia elections board led by Chairman Patrick Lumumba Adera and vice chairman Mohammed Ibrahim Papa applauded the club members for observing discipline during the exercise.
"Today, we saw the true face of democracy. We can avoid violence if we have credible elections. What we have shown is that we can do better, if we put our hearts and mind to it. For those have lost, join the winners," said Papa.
Chairman Rachier for his part says he was confident of victory.
"I was extremely confident of victory because of the records I posted at Gor Mahia, including winning numerous silverware and that is one thing, which will remain at K'Ogalo. he said to the Standard.
Rachier also said that he will work with all those who were elected.
"I had no line up and will work with those elected by members of the club.  My first duty will be to reunite all K'Ogalo fans and candidates. I know there are some divisions, but I intend to work closely with those who contested against me." said Rachier.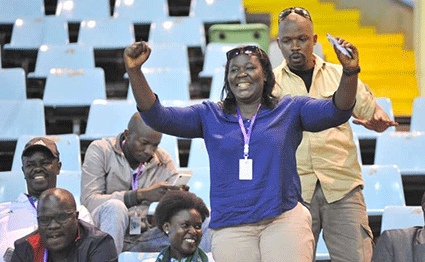 Constitution
The much anticipated new constitution is another item on the Chairman's agenda
"My second task with my new committee will be to deal with our club's constitution so that we can be compliant with the Sports Act. We have deadline of June 16, 2017 to be compliant with new guidelines for club licensing. We also hope the case filed in court, which will be mentioned on Tuesday (today), will be withdrawn" he said.
Creating a new constitution would mean streamlining the club and would neccesitate ridding the club of many of the current positions includinhg secretary general.
Among those who gracefully accepted defeated was Joseph Ogidi, a former musician of the GidiGidi MajiMaji fame.
"Thank you so much to the Kogalo fan base for the support. We live to fight another day. Congratulations to the new Secretary General Ben Omondi and to my worthy opponent Sam Ochola. Let's now work together to transform Gor Mahia. God bless" said Ogidi on his social media pages.
Ben Omondi Thanks fans
Newly elected Secretary General Ben Omondi for his part thanked fans for engaging in a peaceful process and for accepting his vision for the club.
"I wish to take this opportunity to thank the entire Gor Mahia fraternity for a peaceful electoral process. I appreciate the enormous work done through my secretariat headed by Eng. Dan Opata (Jasoda), Betty Opondo, Gilbert Otiende and Joshua Amayo.
"I am indeed honored and thankful to all the voters, who believed in my vision and agenda for the club and voted me as the next Secretary General of Gor Mahia Football club. I will strive and endeavor to work closely with all the elected officials towards the realization of our goals and dreams as a Club." he said to goal.com
Omondi now says he is committed to doing his part to strengthen the club
"It's now down to business and building a stronger united and prosperous Gor Mahia. I commit to run a foot ball club that you will all be proud of supporting. " continued Omondi.