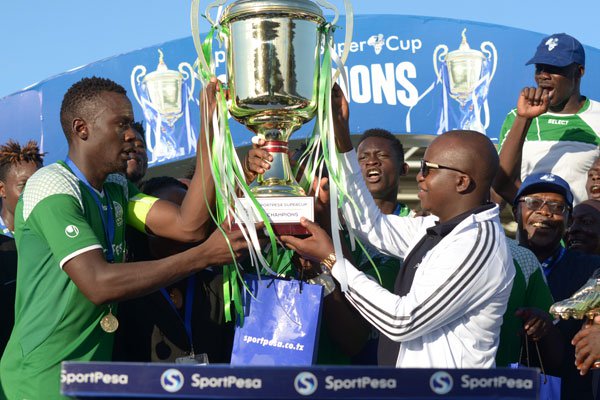 Gor Mahia will be participating in their sixth tournament starting this Sunday when they kick off their campaign for the 2018 Sportpesa Super cup. Gor Mahia are the defending champions having won the 2017 edition without conceding a goal. They beat Jangombe of Zanzibar 2-0, beat Nakuru All Stars 2-0 then hammered arch rivals AFC 3-0 in the final.
This Sunday Kogalo take on Zanzibar Champions, Jeshi la Kujena Uchumi. The Zanzibaris are not overawed by their Kenyan counterparts.
"First, we pay our respects to Gor but it will be the champions of Kenya and Zanzibar playing each other on the day," JKU captain, Pension Mark Joseph told SportPesa News
His Kogalo counterpart is adamant that Kogalo have prepared well for the tournament.
"We have been preparing well for other matches and this should just be a continuation of our assignments. After our league match yesterday, our focus is fully on the tournament and in all honesty, we are ready for it. We want to give it our best." he said to goal.com
On paper the Zanzibaris should not challenge Gor Mahia. They faired rather badly in the 2018 Africa Champions league, losing 7-0 on aggregate to Zesco of Zambia. And 2017 marks the only time that they have ever won the Zanzibari title despite having existed for over 30 years.
Full Fixtures
The tournament will be played on a knockout basis.