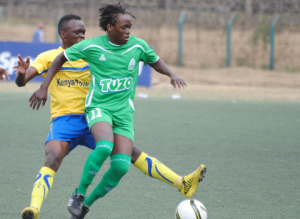 Both Innocent Mutiso and Patrick Oboya have played pivotal roles in enabling Gor Mahia to secure two consecutive league titles. Both have had some memorable moments at Gor Mahia.
One of the most memorable moments Mutiso had was his wonder goal against KCB that enabled Gor Mahia to secure a 3-2 win. Mutiso when healthy was a live-wire on the right flank and gave defenders nighmares. Against US Bitam earlier this year, he scored one of the penalties during the shootout that saw Gor Mahia through to the next round.
Mutiso has also been excellent for public relations, appearing in club functions as well as initiatives driven by the Gor Mahia fans foundation such as the Mater heart run.
Oboya also had some memorable moments at Gor Mahia. Against Esperance in Tunis, Oboya gave Gor Mahia fans perhaps the only moment they could cheer when his mazy dribbling made that Esperance defender dance "Kanungo" in a manner reminiscent of Ben Oloo "breakdance". Oboya's clever flick to Sserunkuma created the crucial goal Kogalo needed to secure their first title in 18 years.
Indeed Gor Mahia has been patient while helping this talented duo recuperate from their nagging injuries. However the financial imperative has forced Gor Mahia's hand into dropping them.
Mutiso posted a thank you note on his social media page and promised to be back stronger.
"I know I will be back 2015 all guns blazing bigger and better once I get fit again and I believe any team which will land my signature will be lucky to have me! Thank you Gor Mahia fraternity for giving me the opportunity to serve you, the post read."
Victor Ali Abondo is back
Gor Mahia and Tusker appear to have agreed on terms for the return of Victor Ali Abondo. "We have given Gor Mahia the go ahead to sign him since they want to submit the name of the player for continentals in time. We shall finalize on the deal later on but they can have the player, Obiny revealed to futaa.com
Abondo was a regular first team player in 2012 and 2013 and a favourite of former coach Zdravko Logarusic because of his solid tactical acumen. Abondo is also known for his robust tackles, an issue that almost saw him come to fisticuffs with his fellow kisumu lad George Odhiambo earlier this year.
He fell out of favour when Logarusic departed with some of the coaching staff accusing him of lack of effort. One hopes that he has improved in that regard.
Spectacular goal by Innocent Mutiso