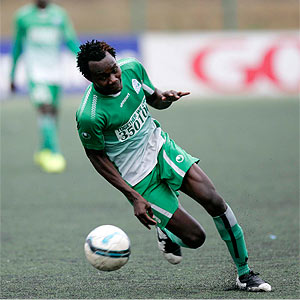 The youthful Timothy Otieno who joined Gor Mahia on loan this month, made his debut on Sunday in the match against Thika United. After overcoming early jitters, Otieno established himself in the game and showed why he has been considered one of the most promising players in the country of in recent years.
Consider the fact that he has not trained much with the team. And there are well established strikers who have been with the team since January. Well established players have found it difficult to crack the starting line-up. Therefore the fact that coach Williamson saw it fit to play Otieno is a testament to his talent and potential.
Otieno himself stated that he was satisfied with his progress so far despite being new to the team.
"So far everything is good and I'm happy the coach has shown confidence in me and handed me first start in a league match. It wasn't an easy match and I feel I did not perform well."
"I haven't yet fully gelled with my team and I'm working hard to get to understand all my teammates and I believe i'll perform better in upcoming matches," he said to supersport.com.
With time Otieno thinks he can establish himself as one of the premier strikers in the country.
"Am yet to fully develop an understanding and acquiant with other players, that was my first match, I did not expect to play the entire ninety minutes but i seized the opportunity and tried my best. think with time I will establish the understanding with other players and hopefully it will work out, Otieno told futaa.com.
Early career
Timothy Otieno first came to prominence in 2009 when he played for Vegetarians FC of Siaya in the Nyanza section of the Copa Coca Cola U-17 tournament. In one thrilling match, he netted 3 goals to Steer Vegetarians to a 3-2 win over Nyakach FC.
His exploits saw him selected to play for Nyanza province in the 2010 Copa Cola national tournament. In the final he scored a hat trick to steer Nyanza to a 3-2 win over Nairobi in the Copa Coca cola finals. He also won the golden boot as top scorer in the 2010 Copa Coca Cola. His exploits saw him receive an opportunity to watch 2 matches at the 2010 World cup.
In 2011, he was selected to play for a Kenya U-18 team in the international Amateur and Youth under 18 Championship in Umbria-Italy. He scored a hatful of goals including two against Northern Ireland whom Kenya beat 6-0
In the 2012 season, Otieno turned out for Division One side Congo United, during which time he netted 21 goals, to emerge third on the top-scorers' list.
At school level, Otieno played for Kakamega high school In 2012 he played a key role to help Kakamega high school reach the semi-finals of the Airtel rising stars, national secondary schools championships. He was also named to the Kenya U-20 team though he did not play because Kakamega high school refused to release him as they were in the midst of their season.
In 2013, he attended trials at Belgian top tier side Gent. This is a team that has featured quite a few Kenyan players including Mike Okoth, John Muiruri and Ayub Masika.
In 2014, Timothy Otieno has now joined Gor Mahia on loan from Talanta FC. He has been presented an opportunity to showcase his talent. Hopefully he will work hard, play to the coach's instructions and be an able replacement for the likes of Rama Salim.