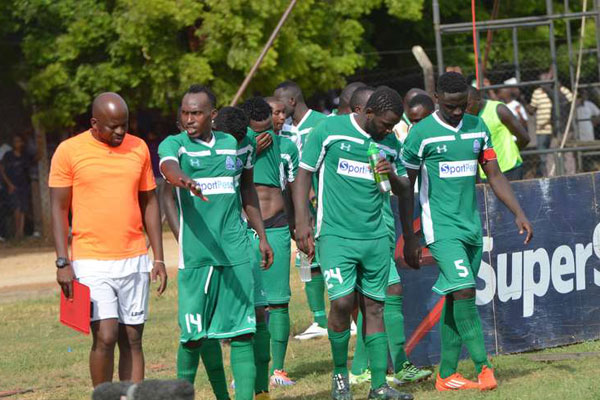 Gor Mahia coach Frank Nuttall feels that the red card that was handed to Harun shakava doomed Gor Mahia's chances in their Super Cup encounter against Bandari on Saturday.
"I'd like to commend my players for a good game. Before the red card, we had three good chances and had a good control of the game but after the sending off, the game changed. It was difficult playing against 11 men and away from home." said Nuttall to supersport.com
However Nuttall defended Shakava, stating that the foul was not intentional.
"Shakava's tackle wasn't intentional and should have passed based on the height of the two players. Sserunkuma is very short while Shakava is tall and he is a high jumper. It was unfortunate he didn't win the ball and maybe that's why he was sent off,"  he continued.
Bandari coach Twahir Muhiddin concurred.
"It was a defining moment in the game because it gave us the advantage. All the same I want to thank my players because they maintained discipline throughout the match. Some of them were booked very early in the game but they were careful and avoided being sent off, Twahir told Futaa.com
Twahir also thinks that humidity was a factor in slowing down Gor Mahia espeically in the second half.
"They were playing at a very high tempo and I was sure that they could not maintain the same in the second half. Some key players like Karim (Nizigiyimana) had already burned out in the second half and we also benefitted from that"  he added.
Gor Mahia to be sanctioned for skipping medal ceremony
KPL CEO Jack Oguda is unhappy with the behaviour of Gor Mahia players  after they refused to pick up their runners up medals.
"Gor is a big club that is supposed to set a good example for other players. What happened on Saturday was uncalled for and unsportsmanlike. Last year, they gladly received the winners' medals and trophies three times, and on all the occasions, the losers picked their second place awards. They should have done the same. KPL does not encourage such behaviour," said Oguda to the Nation.
If there are disciplinary problems creeping into the playing unit then coach Nuttall will need to arrest the situation soon.