Throughout its storied history, there is only one other occasion when Kogalo faced off against a South African side. That was in 1993 in the CAF Confederations cup second round. On that occasion, Gor Mahia was pitted against a team called Hellenic FC of Cape Town. It was a drama filled event and one of the most memorable that Gor Mahia has ever participated in.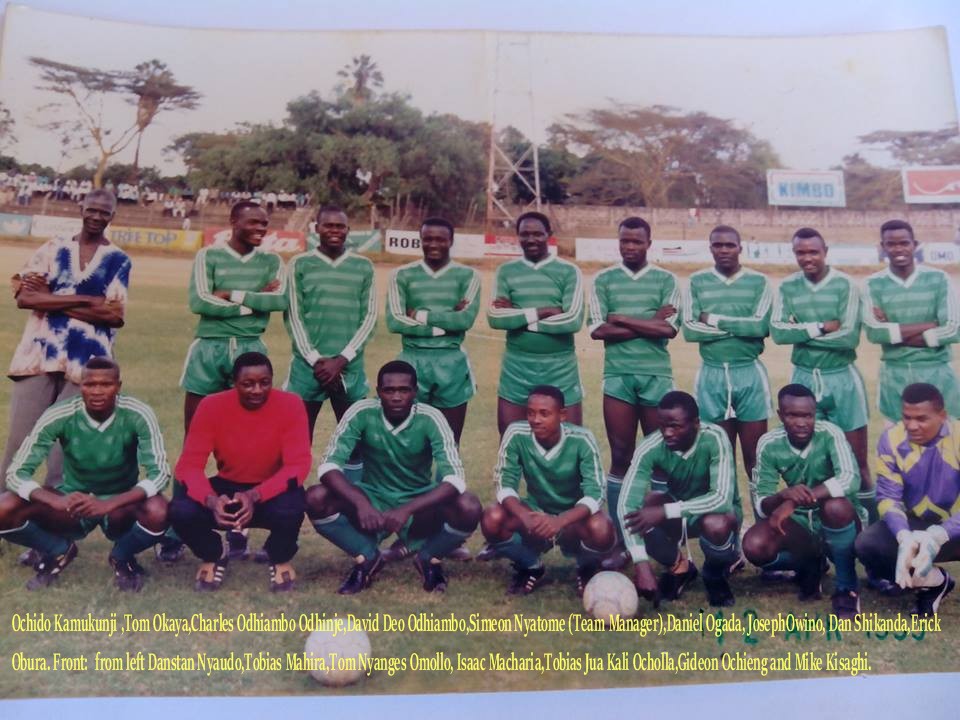 "European Team"
1993 was only one year after apartheid ended and South African teams were desegregated. Prior to desegregation, black south Africans played in their own league while white South Africans played in their own league. When desegregation happened, South African teams were allowed back into African competitions but for the first few years, teams were mostly either all white or all black.
Hellenic was basically an all white team with the exception of two players who were considered as Cape Coloureds. . So when the two teams
entered the pitch, it looked like Kogalo was playing a European side. Among their key players were Grant Young, Gerald Stober and the coloured player Mark Williams, a striker who would later play in the English league for Wolverhampton and in Brazil for Corinthians.
Background
Hellenic qualified for the CAF cup by finishing second on the South African league behind Kaizer Chiefs in 1992. Gor Mahia qualified under similar circumstances. Hellenic were heavily favoured against Gor Mahia. They were a fully professional outfit whereas Gor Mahia was fully amateaur and in the early 1990s, Gor Mahia were in acute financial difficulty and even the meagre allowances that amounted to around Ksh 300 per game were never paid on time.
Secondly Hellenic came into this round red hot. They had beaten Malawi representatives MDC United 7-1 on aggregate after drawing 1-1 in Lilongwe and winning 6-0 in Cape Town.
Gor Mahia for their part were lacklusture in the first round and were lucky to escape. In the first round, they played Uganda Coffee. They won the first leg in Kampala 1-0 thanks to a powerful free-kick from James Atuto. The new signing ended up being one of the best free-kick takers the club has ever had. His shooting was accurate and possessed a rocket launcher in his left foot. Note that Atuto was a younger brother to George Otieno "Vigo" who had played for Kogalo between 1982 and 1986 and also had a ferocious shot. This must run in the family. After winning the first leg 1-0, fans expected Kogalo to soundly beat the Ugandans at Nyayo stadium. But Kogalo were very poor on that day. The Ugandans scored an early goal with their striker back-heeling the ball into an empty net. Gor Mahia could not claw their way back into the match. Morale was low due to non-payment of allowances and it showed on the field. The match ended 0-1 and went into extra time then penalties. Luckily for Gor Mahia, they converted all 5 penalties with players like Dan Shikanda and Sammy Omollo "Pamzo" being sure footed from the spot. While the Ugandans sent two of their penalties wide.
First Leg
The stage was thus set for Kogalo to play Hellenics in the second round. Not much was expected from Gor Mahia as they were not playing well domestically either. (Though they won the 1993 league). With the understanding that the South African league was of a higher standard, nobody but die hard Kogalo fans gave them a chance. The first leg was played in Cape Town. Gor Mahia lost 3-1. And everyone assumed their predictions would come true.
Rain Drenched Return Leg
Then came the second leg that was scheduled for Nyayo stadium. Torrential rains poured from the skies, leaving the Nyayo stadium pitch unplayable. In those days the Nyayo stadium surface was so poorly maintained that there were several bald spots all over the field which rendered the field a muddy mess when it rained. The armed forces would perform their marching drills on the surface before every major public holiday and all that foot traffic only made the pitch worse.
So thanks to the rains, players were finding it impossible to play in that water-logged surface where the ball would not even bounce and any ground passes immediately stopped, while the players boots were clogged with mud. Left winger Dan Shikanda, who was a mazy dribbler and thrived on taking on defenders , was constantly trying to dribble his way down the left flank but was constantly frustrated by the muddy surface. Fans urged him to change strategy as the surface did not lend itself to dribbling.
Rain again started to come down heavily towards the end of the first half. So heavy that the referee had to stop the match for players to take refuge. The game was delayed for twenty minutes. As the second half progressed, it became clear that neither team could effectively play. And Hellenic were happy to waste time, spoil the game and hope for a draw that would see them through.
As time waned, the match referee stopped the match with fifteen minutes left. There was a FIFA rule that states that in case a field becomes unplayable, the match referee was authorized to stop the match and order a replay. So the referee stopped the match, gathered his assistant referees and went about inspecting the field. He did this by bouncing the ball in various spots around the field to see if the ball could bounce. Each time the ball failed to bounce, the large crowd at Nyayo stadium cheered loudly knowing that it strengthened the case for stopping the match and ordering a replay. After the field inspection was complete, the referee indicated that he was stopping the match and ordering a replay the next day. The crowd cheered loudly. Hellenics players complained bitterly but to no avail.
Livid Fans accost coach Oyugi
But fans were not done. They accosted coach Bob Oyugi and accused him of poor fielding. They claimed that he was favouring certain players who simply could not produce. In particular, fans were unhappy with centre forward David Odhiambo "Deo". The much heralded Deo had been signed from Re-Union FC where in 1992 he had been the top scorer in the national league with 23 goals. He was in the Kenya squad that played in the 1992 Africa cup of nations. But when he joined Kogalo, his scoring touch eluded him and Gor Mahia were experiencing a scoring drought. Fans wanted Peter Dawo whom they saw as a fighter who would battle with the South Africans and could especially be useful if Kogalo needed to use high balls. Fans angrily lectured coach Oyugi in dholuo and warned him not to field another mediocre line-up.
The fans gave him a recommendation of whom to field and starting to dictate the line-up from number 1 to number 11. A frazzled Oyugi started to listen intently and nod in agreement. Then one fan yelled in dholuo "Kaw kalam indik !" (get a pen and write). Oyugi who by now was scared out of his wits started to scramble for a pen and paper and he documented the line-up that was dictated to him by this group of fans. And when the replay came, he deployed that exact line-up that fans had dictated to him, lest he risk being accosted by irate fans again. In particular, Peter Dawo was in the starting line-up instead of Deo. And Dawo had just come back from a long layoff after he had left to play in the Egyptian league for Arab Contractors.
Replay the following day
The replay was played at Nairobi City stadium whose playing surface was in much better shape than Nyayo. On that day, the stadium was filled to the brim. So full was the stadium that even the flood lights were full of fans who scaled them to get a better view of the match. Yours truly was at the stadium and has never seen City that full. It was that massive crowd that lifted and inspired Kogalo players above their mediocre performance from the previous day. From the beginning, Gor Mahia attacked relentlessly. Tobias Ocholla who was deployed at left back was a live wire, constantly running down the left flank, exchanging one-two passes with Shikanda and sending in cross after cross. Zedekiah Otieno "Zico" was at right back and was equally active. It became clear that the main tactic was to send crosses to Dawo who could use his aerial superiority to score from headers.
The attacks finally yielded a goal from Dan Shikanda in the first half. Gor Mahia went into halfime leading 1-0. But fans knew that it was not enough as they were still 3-2 down on aggregate. A second goal was crucial. Gor Mahia thus went into the second half fully in attack mode. In the 60th minute, coach Oyugi rested Dawo who was still not fully fit after his long layoff. As time waned, the crowd grew tense. With only minutes left, the all-important second goal finally came via Joseph Owino "Andai". A goalbound shot was sent to the Hellenics goal and the goalkeeper could only parry the ball back into play. Owino latched onto the resulting rebound and planted the ball in the net. The stadium turned to a near delirium. Fans went wild. After the game, there were wild celebrations as fans matched from City stadium along Jogoo road to Burma, blocking the busy highway and singing "Mayienga Mayienga" and other songs all the way.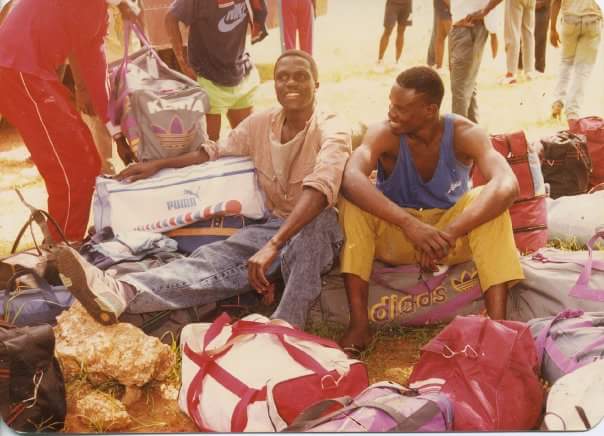 The aftermath
Gor Mahia's best aspect during the early 1990s was the defence. Ocholla, Zico, Sammy Omollo "Pamzo", Paul Ochieng Kunde were rock solid. Then add to that defensive midfielders: Allan Odhiambo and Joseph Owino and they comprised perhaps the defensive unit that Kogalo jas ever fielded. It was the reason Gor Mahia won the league in 1990, 91, 93 and 95 despite not having consistent scorers. After the match, Hellenics expressed a keen interest in signing certain players, most notably Paul Ochieng. But the deal fell through. It is said that Kogalo officials declined to accept what Hellenic offered.
Gor Mahia thus proceeded to the quarter-finals where they faced off with Atletico Aviacao of Angola. There the scoring woes continued to haunt them. The two sides drew 0-0 in Luanda and 0-0 again at Nyayo before the Angolans went on to win on penalties. Gor Mahia won the league title in 1993. They had dubiously lost it on goal difference in 1992 when AFC Leopards beat Transcom of Nakuru 7-0 on the last day. And Transcom was a good team. Evidence suggested that money had exchanged hands so that Transcom could allow 7 goals. Thus when Gor Mahia regained the league in 1993 with several matches to spare, it seemed like poetic justice. Hellenic which had been formed in 1958 by Greek immigrants, ceased to exist in 2004 when it was sold off and changed its name to Premier United.