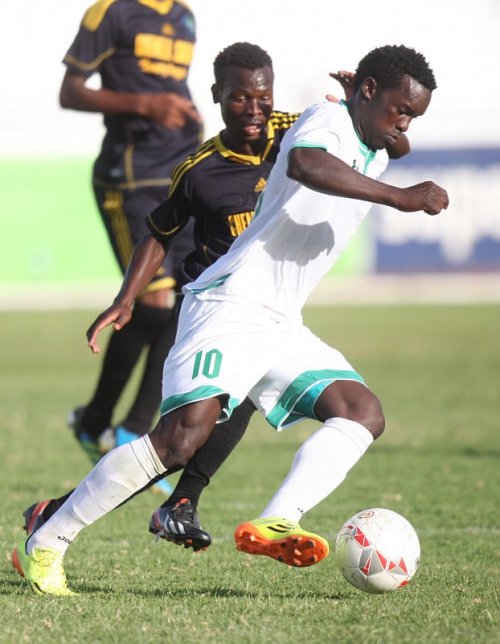 Gor Mahia official Ronald Ngala has come out to deny that the club owes Khalid Aucho alot of money.
"What is Aucho talking about? I fail to understand, in fact I am dumbfounded! Which salary is he talking about? And how much is it? As a matter of fact, we have cleared players' salaries and allowances. The only thing we have not cleared is winning bonuses which is not much and that is not a big deal to us, so Aucho should say how much he is owed. If he wants salary increment and contract extension, why can't he come we solve that issue instead, of trying to do things the way he is doing?" said Ngala to goal.com
Aucho has earlier on claimed that his salay and bonuses are in arrears.
"Hopefully I will be back in Kenya end of this week or early next week but I do not know whether I will be playing for Gor Mahia or not. They owe me a lot of money, from allowances to salaries and no one is talking to me. I want to come and have a talk with them and that will determine my future with the team which I regard highly in my heart." he said to goal.com on Friday.
Meanwhile another club official Anima "ferrari"Oketch has come out to explain why the club opted to pursue Jacque Tuyisenge instead of fighting to keep Meddie Kagere who had a stellar year in 2015
Speaking to The Nairobian, K'Ogalo's Deputy Secretary General Anima Ferrari said it makes a lot of economic sense to bring the Rwandan player on board.
"We will be spending Sh4 million on Tuyisenge. This however will be paid in a span of two years. That is quite fair. Kagere on the other hand demanded Sh2.5 million per year, which adds up to Sh5 million in two years," Ferrari told The Nairobian.
The club spent $40,000 (about Sh4 million) to capture Tuyisenge had elicited debate with many questioning the move.
"Tuyisenge is in his twenties, he is still very young and can be of much value to the club in future. Kagere, though good and tested in the KPL, is much older. It would therefore be unwise to spend millions, which we do not have anyway, just to have his services for the 2016 season," added Ferrari who believes the new acquisition will do just fine in the league.