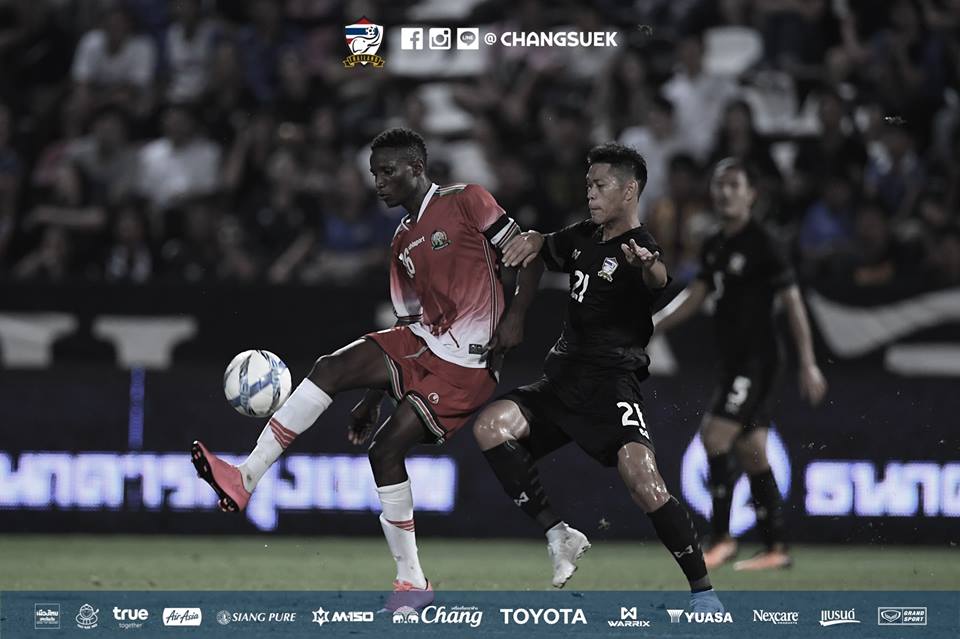 Midfielder Kenneth Muguna, goalkeeper Boniface Oluoch and defender Musa Mohamed were the Kogalo players in action as Kenya put on what can at best be considered a sub par performance against Thailand. Context first: Thailand are at number 137 in the FIFA rankings, 49 places below Kenya. The entire Thai national team plays in the Thai league which cannot be considered to have a standard above the KPL.  Kenya was thus expected to win .
In the end it was Thailand who looked the better side. Though Kenya had more possession, they failed to create decent chances. Kenya are still unable to string together meaningful passes in the final third. As a result they try to score by playing hopeful crosses into the box or long passes.
Muguna's impact on the game was not significant at all. He did not play badly but neither did he impose himself on the game nor create any chances. None of this is his fault. The team lacked sufficient cohesion. Musa Mohamed was played at right back. He was solid and staved off the attacks that came on his wing.
Boniface Oluoch was solid between the sticks and actually had to dive full length to pull off a number of saves. The goal he conceded was not his fault though he seemed to parry the ball right into the path of an oncoming attacker.
Other former Kogalo players were in action as well. Michael Olunga came closest to scoring when in the first half he picked up a loose ball and unleashed one of his trademark rising shots which forced a spectacular save from the Thai keeper. In the 54th minute Kenya were awarded a free-kick on the edge of the box after Masoud Juma was fouled. Olunga took the resulting free-kick which was quite an embarrasment. His form was poor. He got underneath the ball and sent it several meters above the cross bar. He has clearly not been practising free-kicks during his time in Sweden, China and Spain.
David Owino Calabar was solid in central defence. But was unable to start moves by linking up with his midfielders as is required of modern central defenders. The systems he is forced to play in and the quality of players around him are to blame.
Left with no option, he resorts to bypassing the midfield by sending long balls to the forwards. And unlike Austin Oduor of yesteryear, his long balls are mostly fanciful. They rarely find their target.  Anthony Akumu, the other former Kogalo player in the side was also solid if unspectacular.
The Thai side are clearly better at stringing together passes in the final third. In fact the goal they scored came after their winger created an opening for himself on the right flank, sliced the ball to the central attacker whose shot was parried by Oluoch only for another attacker to pounce on the loose ball and score.
After they scored, the Thais fell back and allowed Kenya long spells of ball possession. However Kenya were once again let down by their poor coordination in the final third. As a result they created no meaningful chances. The only attempts at goal were a long range effort from Anthony Akumu which went well wide and Olunga's shocking free-kick.
Coach Okumbi introduced substitutions, bringing in Waruru, Samwel Onyango and Jesse Were for Masoud Juma, Miheso and Makwatta. But it was to no avail
Boniface Oluoch, David Owino (C), Jockins Atudo, Abud Omar, Musa Mohammed, Anthony Akumu, Kenneth Muguna, Cliffton Miheso, John Mark Makwatta, Masud Juma, Michael Olunga
Patrick Matasi, Simon Mbugua, Ernest Wendo, Samuel Onyango, Jesse Were, Harun Shakava, Robinson Kamura, Patillah Omotto, Boniface Muchiri, Dennis Sikhayi, Stephen Waruru