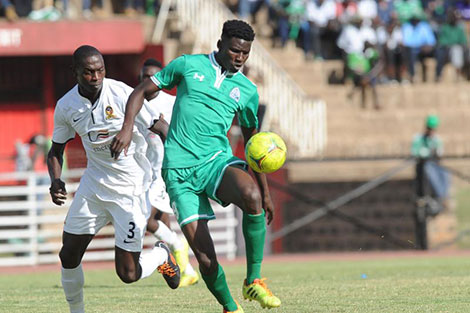 Newly signed Gor Mahia striker Mike Olunga is working on sharpening his finishing in front of goal. Olunga has been faulted for missing several chances. Lack of composure in front of goal may be a factor.
"Of course playing for a big team like Gor comes with its pressure, but I have managed to weather that pressure, now I need to work on my scoring touch," said Olunga to supersport.com
He is currently the third leading scorer behind Ali Abondo who has scored 10 and Kagere who has found the back of the net four times. His best match was the season opener against Mathare where he scored twice.
"I have so far scored three, I know I could have scored more if I took the chances I have had, but as I said I am working on my final touch and I know I can only get better," he added.
But Olunga is not just obsessed with scoring. Being a team player and playing according to the instructions of the technical bench is more important.
"My job is also to assist my team mates. I will be happy if I assist my team mates and eventually win the league, than become the top scorer and lose out on the league title.
Indeed Olunga has played well so far. He is a headache for defenders and they often have no choice but to drag him down resulting in free-kicks or penalties.
Olunga scored 9 goals while playing for Thika United last season and fancied himself scoring more this year.
"I always thrive under pressure and in my opinion, Gor will help me shine. I am sure if I was here last season and scored 10 goals, I would have been a regular in the national team," said Olunga. I believe in myself, I believe I can do well and I will score many goals. Their playing style suits mine and I look forward to a great season. I am not putting myself under pressure to replace Danny (Sserunkuma) but I will do my best," said Olunga in January.
The towering Olunga is one of the tallest players ever to play for Gor Mahia. Perhaps the tallest. He can be very useful in corner kicks, throw ins, dead ball situations. Coach Nuttall should work with him on this aspect of his game and perhaps even invite legend Peter Dawo to offer Olunga tips.
Once Olunga sharpens his aerial skills, coach Nuttall should work with wingers and full backs to deliver precise crosses that target Olunga when possible.
At age 21, Olunga still has plenty of opportunity to sharpen his skills if he chooses to work on his game. He can go places.