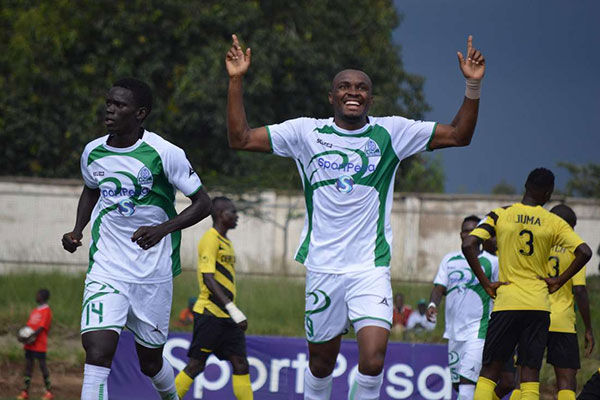 Gor Mahia have moved their match against Chemelil Sugar from Kisumu to Nakuru. This according Organizing secretary Judith Nyangi.
"Our match against Chemo on Thursday in Nakuru will kick off at 2 pm live K24" said Nyangi.
The reason is to reduce the amount of travel for the club before they play against Rayon Sports in a crucial CAF Confederations cup match on Sunday. However note that Afraha is one of the surfaces that coacg Dylan Kerr has often complained about, saying that the uneven surface is not conducive to good football and makes players prone to injury.
This comes after KPL declined an appeal by coach Kerr to postpone the Chemelil game.
"We are carrying Kenyan football for all of Africa to see but the importance of the game v Rayon and USM are paramount and yet we have 5 important games; 3 exceptionally important games in 14 days." said Kerr.
But KPL CEO Jack Oguda says it will not be possible to act now with any changes.
"We cannot alter fixtures now because we also have a tight schedule. Furthermore, Gor Mahia have not written to us to complain. They have asked to play Chemelil in Kisumu and we cannot change the fixture now because of the rules." Oguda said.
It is not clear why KPL is in such a hurry to decide the league in August. Nor is it clear whether the club EC ever appealed to KPL over fixture congestion.
Kerr vows action against Walusimbi's agent
Coach Dylan Kerr is fed up with Godfrey Walusimbi's agent and has vowed to make him lose his license.
"My chairman and CEO are not to blame nor myself because Walusimbi acted immorally probably on advice of his agent, who I will personally act on and make sure that his license is revoked."
"Both Walusimbi and his agent have let my team and staff down not once but twice now because they did the same when we played against Esperance and we lost the match because he was not available." Kerr said to goal.com
Kerr went on to specify which FIFA rule Walusimbi had contravened.
"His agent acted for financial greed and Kaizer Chiefs think they can get him for pennies but worst of all acted illegally against Caf and Fifa rules. Rule 18 clearly states that a club intending to conclude with a professional player must inform the players club in writing before entering into negotiations.
"Walusimbi is contracted to Gor Mahia until 2020 and Chiefs have not written." he concluded.
Indeed if Kogalo don't take action, this behaviour could become the new normal.
Kaizer Chiefs deny tapping Walusimbi
Additional reporting from Independent online
JOHANNESBURG – Kaizer Chiefs football manager Bobby Motaung has confirmed that Godfrey Walusimbi, the subject of accusations that Amakhosi are guilty of player tapping, is indeed in Naturena to negotiate a deal to join the Glamour Boys.
But Motaung was quick to refute reports that the South African giants are trying to lure the Ugandan defender away from his Kenyan club Gor Mahia without their permission.
Tapping is illegal according to Fifa rules.
The Gor Mahia chairman even claimed in a statement that his Amakhosi counterpart had phoned him to apologise for getting off on the wrong foot.
"It's unfortunate that a player can just decide on his own to travel to engage another club without our knowledge.
"I got an alert from someone that he was travelling, and the next thing was a call from the Kaizer Chiefs chairman apologising for that step, and requesting if we could talk on a possible move," the statement from two days ago read.
"I declined to discuss anything and told Chiefs' chairman I will hold a meeting with my EC (executive committee). Then we will know what step to take."
Breaking Chiefs' silence on the matter, Motaung said the Amakhosi were following protocol in trying to sign Walusimbi.
"He is here at the village (club headquarters), and we are going about things the right way. We will make further announcements when we have agreed a deal with his club.
"But the player has not gone missing from his club. Maybe there was some confusion as the coach (Dylan Kerr) obviously wants to keep the player," Motaung explained.
Walusimbi still has at least a year remaining on his contract with Gor Mahia, according to reports in Kenya, and has been valued at R3 million.
Chiefs were last month accused of signing a player that is still under contract by Fosa Juniors, a club from Madagascar.
Andriamirado "Dax" Andrianarimanana denied being their player, while Fosa were adamant he was contracted until 2020.