Paul Odhiambo Gor Mahia's first coach

Jasper Okelo

Peter Okeyo Kapila

Peter Pampuro

Allan Thigo legendary player-coach

Jerry Imbo
David Otti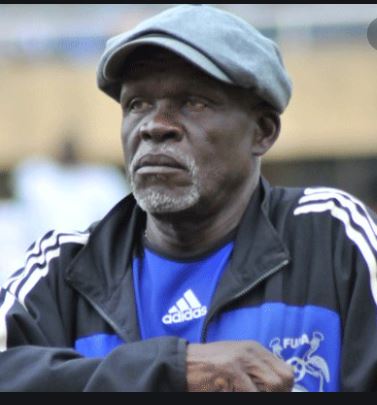 Len Julians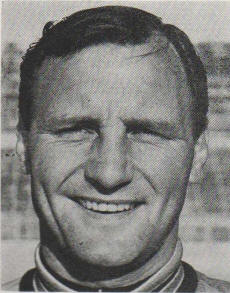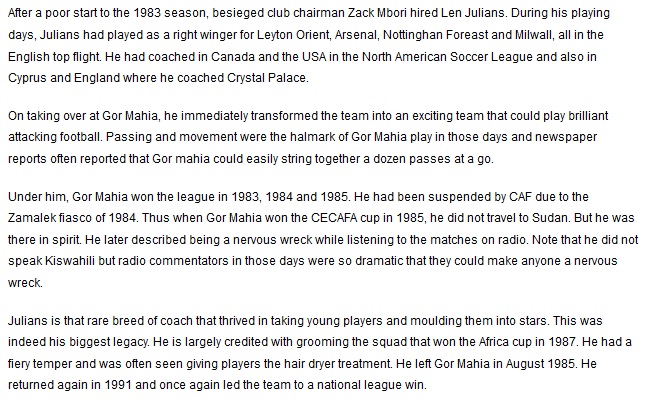 Go to this page to read the full life story of coach Len Julians
Maurice Ochieng

Jack Johnson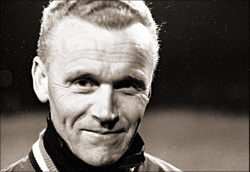 Mohamed Kheri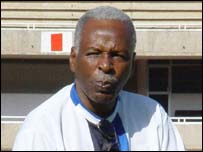 Austin Oduor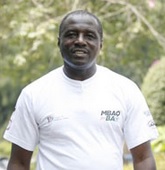 Bob Oyugi

Tobias Ocholla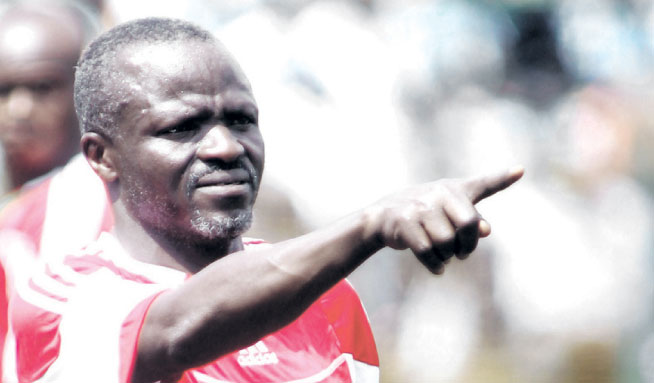 Manfred Steves
Manfred Steves was a German coach who had been seconded to the KFF by the German goverment to work as a youth coach in FIFA's goal project. When Tobias Ocholla was suspended in 2001, Steves coached Gor Mahia briefly.
Vojo Gardasevic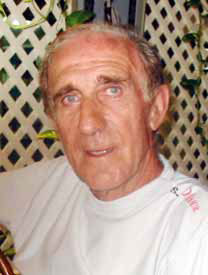 Mike Otieno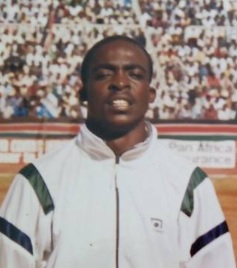 Elly Adero

Diego Romano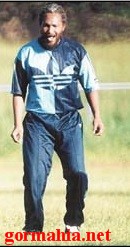 Sammy Omollo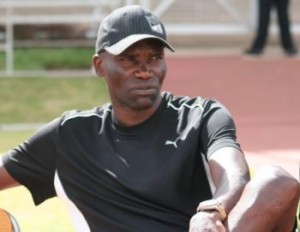 James Sianga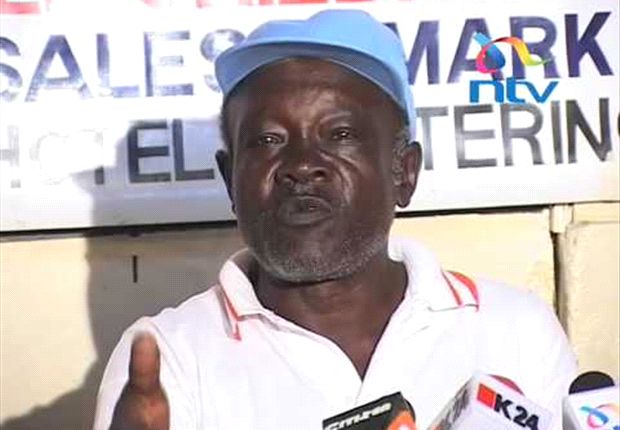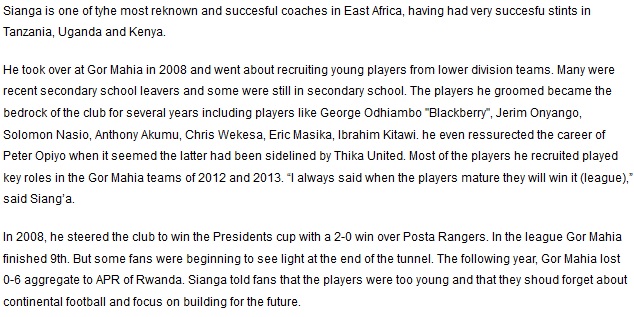 Raphael Auka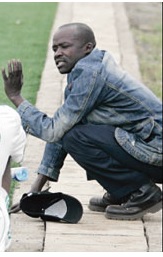 Raphael Auka replaced Sianga in 2009 but his stint was short and tumultous.
After a 2-0 loss to Western Stima at Nyayo stadium, he was accosted by unhappy fans and was forced to quit.


Gideon Ochieng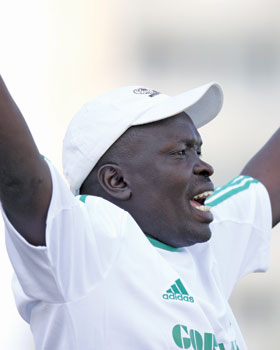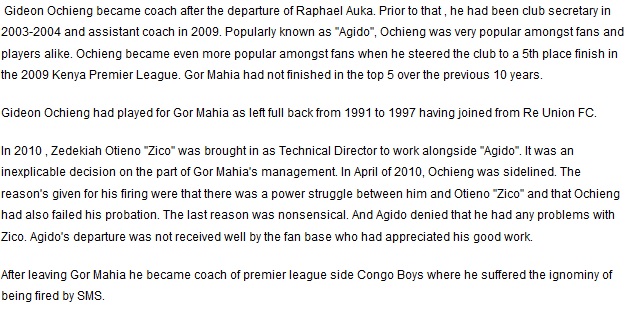 Zedekiah Otieno Zico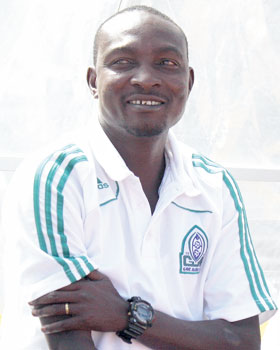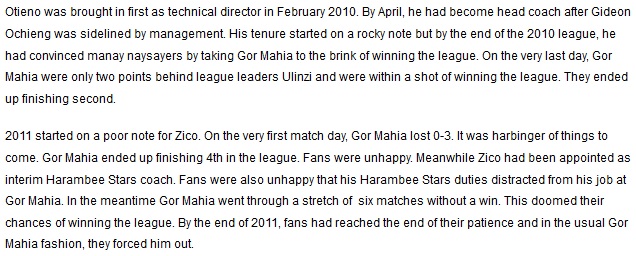 Anaba Awono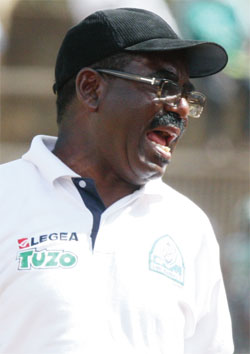 Bobby Ogolla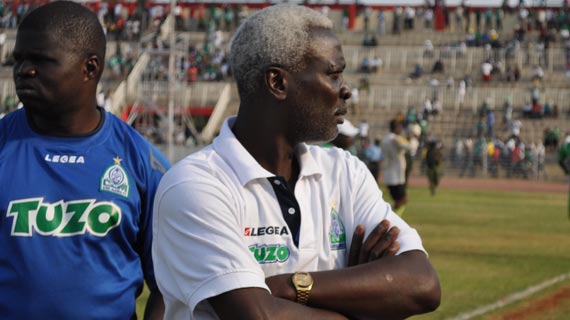 Zdravko Logarusic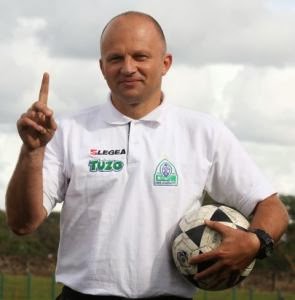 Bobby Williamson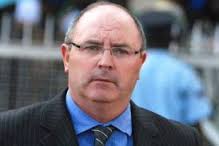 Frank Nuttall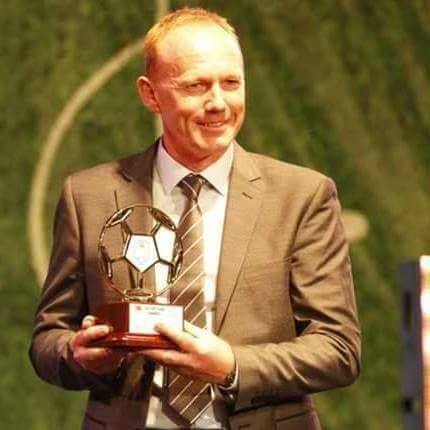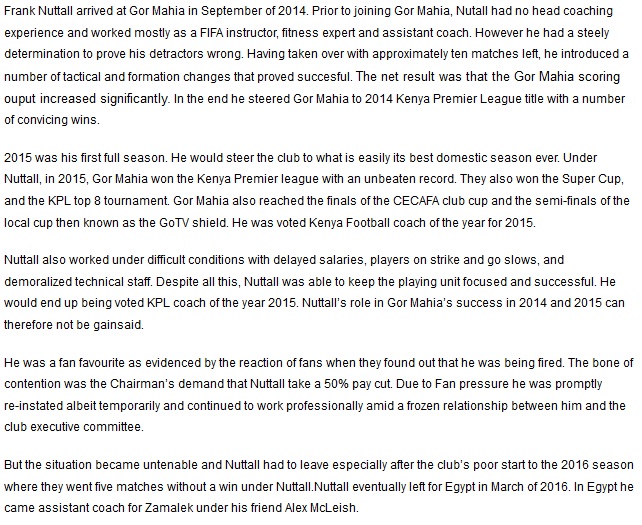 However he had a steely determination to prove his detractors wrong. Having taken over with approximately ten matches left, he introduced a number of tactical and formation changes that proved succesful. The net result was that the Gor Mahia scoring ouput increased significantly. In the end he steered Gor Mahia to 2014 Kenya Premier League title with a number of convicing wins.
2015 was his first full season. He would steer the club to what is easily its best domestic season ever. Under Nuttall, in 2015, Gor Mahia won the Kenya Premier league with an unbeaten record. They also won the Super Cup, and the KPL top 8 tournament. Gor Mahia also reached the finals of the CECAFA club cup and the semi-finals of the local cup then known as the GoTV shield. He was voted Kenya Football coach of the year for 2015.
Nuttall also worked under difficult conditions with delayed salaries, players on strike and go slows, and demoralized technical staff. Despite all this, Nuttall was able to keep the playing unit focused and successful. He would end up being voted KPL coach of the year 2015. Nuttall's role in Gor Mahia's success in 2014 and 2015 can therefore not be gainsaid.
He was a fan favourite as evidenced by the reaction of fans when they found out that he was being fired. The bone of contention was the Chairman's demand that Nuttall take a 50% pay cut. Due to Fan pressure he was promptly re-instated albeit temporarily and continued to work professionally amid a frozen relationship between him and the club executive committee.
But the situation became untenable and Nuttall had to leave especially after the club's poor start to the 2016 season where they went five matches without a win under Nuttall.Nuttall eventually left for Egypt in March of 2016. In Egypt he came assistant coach for Zamalek under his friend Alex McLeish.
José Marcelo Ferreira aka Ze Maria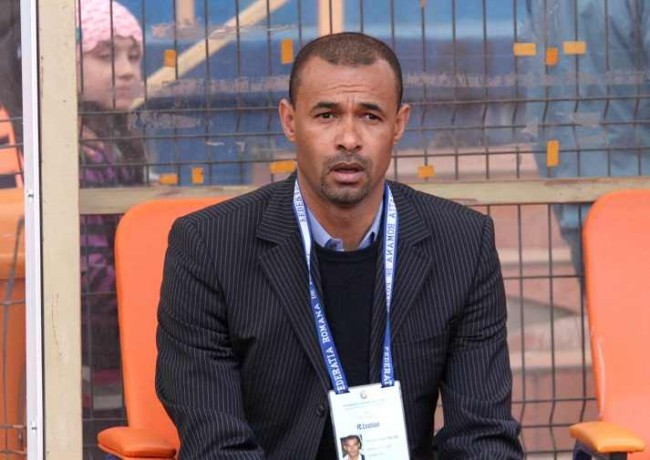 The Brazilian popularly known as Ze Maria took over as Gor Mahia coach in March of 2016. He became the most high profile person ever to become Gor Mahia coach, having played for the Brazilian national team where he won a bronze medal at the 1996 Olympics. He had also played for several top tier Brazilian sides like Flamengo, Cruzeiro and Botafogo as well as Italian sides like Inter Milan.
Ze Maria tried to install a new style of play at Kogalo wich emphasized the traditional Brazilian stye of short passes. Results were half decent but not overwhelming. He kept Gor Mahia in the KPL title chase throughout the 2016 season. However his hopes of wresting the title were derailed after Gor Mahia were deducted 3 points for hooliganism. There were also ignominious losses in the GoTV shield.
He started the 2017 season on a sound note winning the Super cup. And by mid season, Gor Mahia were at the top of the standings yet again. When Gor Mahia went to Tanzania to play in the inaugural Sportpesa Super cup, Ze Maria announced that he was going to Brazil for a week. He arrived just in time to watch his side beat arch rivals AFC 3-0 in the final. He was carried shoulder high by the players. But days later he announced his resignation from the club. He would then leave for KF Tirana in Albania where he had apparently received a better deal.
Dylan Kerr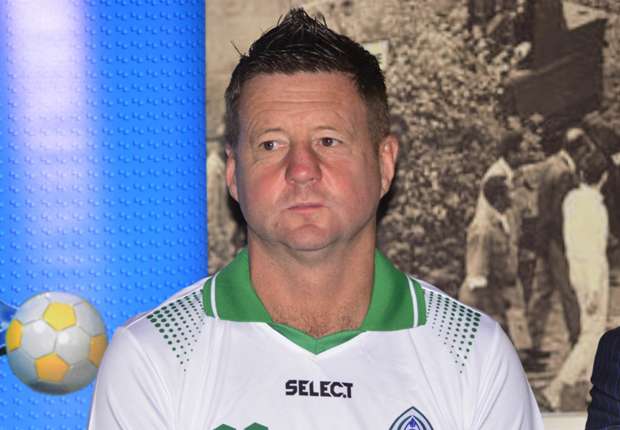 Kerr joined Kogalo in July of 2017. Prior to tha, he had been U-18 coach at Chesterfield, a fourth division side in the UK. He had also coached Simba SC in Tanzania and Hải Phòng FC in Vietnam
Almost as soon as Kerr took over as coach, Gor Mahia showed dramatic improvement in the attack. Whereas Gor Mahia were previously squeezing 1-0 and 2-1 wins, they were now scoring more freely, while showing more imagination and unpredictability in attack. Kerr led Kogalo to the 2017 Kenya Premier League title.
Others
Dan Ogada, a former brilliant midfielder for the club also had a stint as coach. Frank Ouna, Martin Midega and former defender George Otieno "Sollo" also coached the club at one point.