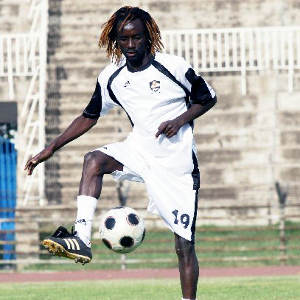 Former Gor Mahia midfielder Moses Odhiambo "Dube" thinks his former club has the best chance to retain the title they won last season. This according to "Dube" is because Gor Mahia have an easier schedule left compared to the other contenders.
"Gor have a higher chance of winning the title, they are two points ahead of the second placed team and on paper they have easier fixtures compared to the other title contestants" he said to futaa.com
Dube however maintained that the last few matches are going to be tough for all three teams.
"The remaining fixture are tough for the top three teams, anything can happen and  any of the top three can win the league, he continued.
Remaining matches
Sat 04-10-14: City Stars vs Gor Mahia
Sat 18-10-14: Gor Mahia vs Mathare United
Sun 26-10-14: Sofapaka vs Gor Mahia
Sun 02-11-14: Muhoroni Youth vs Gor Mahia
Sat 08-11-14: Gor Mahia vs KRA
Gor Mahia will need to keep their concentration in all their remaining matches. But the key encounter is clearly the match against Sofapaka.
Profile of Moses Odhiambo
The classy Moses Odhiambo joined Gor Mahia in 2011 from Young Africans of Dar es Salaam. In his three years at Gor Mahia, "Dube" played a pivotal role as Gor Mahia won the league, the FKF cup twice and the KPL top 8.
Nicknamed "Dube" for his dreadlocks and his physical resemblance to South African reggae singer Lucky Dube, Odhiambo was an industrious, tireless midfielder who always tracked back to help the defence and also created numerous chances for the forwards. His playmaking skills are something the club sorely misses now. Odhiambo's ball control and his intelligence on the field is immaculate.
His career started as a youngstar with the now defunct Utalii United. He immediately established himself as one of the best midfielders in the country. When Utalii was disbanded, he joined Tusker. He was soon called up to the national team, then coached by Frenchman Bernard Lama. His exploits on the local scene attracted the eyes of Tanzanian scouts. He soon joined upstart Moro United. He was in sensational form in the 2006 CECAFA cup when he scored three goals to help Moro United reach the finals. Most notable was his quarter-final goal against Simba sports club which enabled Moro beat Simba 2-1
His performances compelled Simba to swoop in and sign him in 2007. He established himself as one of the best players in the Tanzanian league in his role as a roving midfielder under coach Twalib Hilal. He stayed at Simba briefly before joining APR of Rwanda. He was the APR squad that beat Gor Mahia handily in 2008. Upon leaving APR, Odhiambo had a stint with Belgian second tier side AS Eupen from 2008 to 2009.
The 2012 season was his best in the Kogalo jersey. With Logarusic in charge, Odhiambo was at the heart of the Gor Mahia midfield, pulling the strings, setting up goals and supporting the defence. His most memorable moment came when he headed home a cross from Moses Otieno to give Gor Mahia a 2-1 win over arch rivals AFC Leopards in the FKF cup. His superb form in 2012 saw him named to the national team under another Frenchman Henri Michel. At the end of the season, he struck a deal with a side in the Omani deal. The deal however fell through when the Omanians reneged on an earlier promise and Dube returned to Gor Mahia much to the relief of Gor Mahia fans.
And he would play a  key role in enabling Gor Mahia win the national league after an 18 year hiatus. It thus came as a surprise to many when he was released by the club. This column would like to thank "Odhis Dube" for his three seasons of distinguished service.