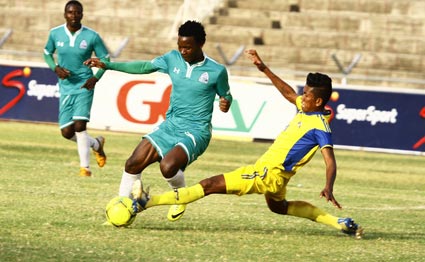 Gor Mahia will take on Madagascan champions CNAPS in the preliminary leg of the 2016 Africa champions league. It is the same side that Gor Mahia faced at the same stage in the 2015 edition. The two legged tie will see Gor Mahia play host in the first leg to be played on the weekend falling between February 12-14. The second leg will be staged in Madagascar a fortnight later.
Last time Gor Mahia did not have their full complement of players. Karim Nizigiyimana, Abouba Sibomanana and Meddie Kagere were missing. This was because they were signed late and thus not eligible to play in the contest.
Still Gor Mahia managed to scrape past CNAPSs. Having won the first leg, they managed to score two away goals which ended up being crucial even as they lost 2-3. This was thanks to goals by Ali Abondo and a crucial late goal by George Odhiambo Blackberry. This time Gor Mahia should learn from that last experience and secure the squad in time. This means re-signing key players like Aucho, Kagere and Nizigiyimana, some of whom are already casting doubts on their future with the club. This means chairman Rachier should take a break from his FKF campaigns to secure the squad for next year. And fans should do their part even if it means digging into their pockets.
About CNAPS
The club is from Miarinarivo. Like Gor Mahia, they have dominated the Madagascan league of late, winning in 2013, 2014 and 2015. In 2015, the Madagascan league was played in a complex system of phases. CNAPs topped their group in each phase. In the final phase they won convincingly by scores of 4-1, 2-0 and 2-1 to win the title. They have appeared in the champions league twice and both times have been eliminated in the preliminaries.