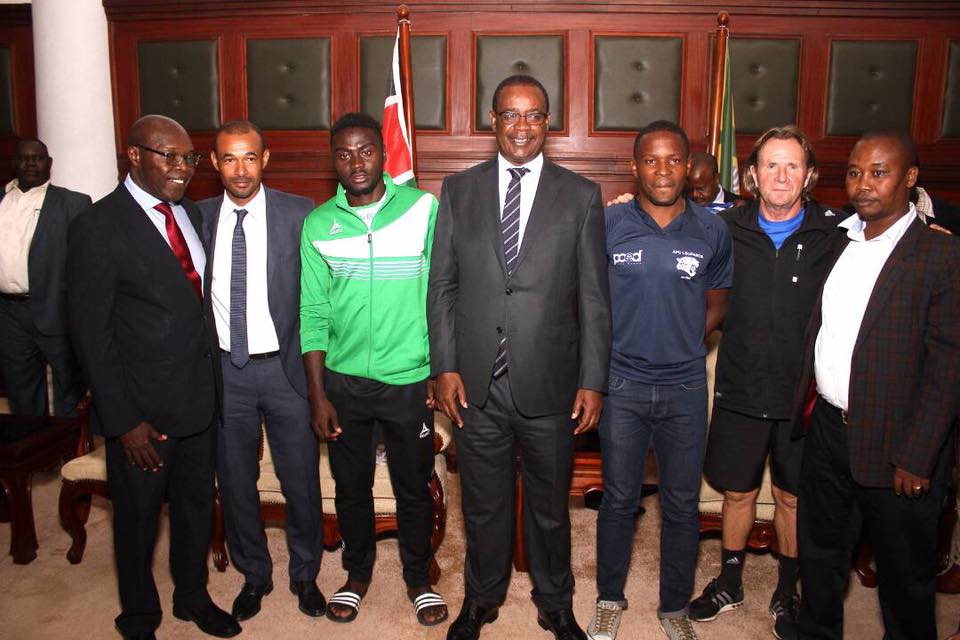 With concerns over security and lack of a venue set aside, the two biggest arch-rivals in Kenya football will clash at Nyayo stadium this Sunday. With only two points separating the two sides, it is bound to be a tense derby.
Last season, Gor Mahia lost the first leg 0-1 but avenged the loss by beating Ingwe 2-0 in the return leg with goals from Meddie Kagere and Enock Agwanda.
In Sunday's derby, Gor Mahia will once again rely on Kagere's scoring instincts, particularly if Jacque Tuyisenge who is nursing an injury, misses the match. Tuyisenge picked up a knee injury in Sunday's dissapointing loss to Mathare.
"Jack has a little knee injury but I hope it will not be serious and he can be able to play on Sunday. We will look at him over the next two days and decide whether he will be fit enough to play," said coach Ze Maria to Capital Sports.
In defence, Gor Mahia will be hard pressed to contain the Ingwe duo of burly Ghanaian Fiamenyo and Ugandan Allan Kataregga, both of whom have scored key goals this season. Fiamenyo who has scored four goals this season, typically uses his massive frame to shrug off defenders and uses quick bursts to run into open space. The task of containing him falls to Musa Mohamed and Harun Shakava.
In Midfield, Gor Mahia will be boosted if Kenneth Muguna who missed last weekend's action returns. Muguna was nursing an injury last weekend but returned to training this week.
"Jack has a little knee injury but I hope it will not be serious and he can be able to play on Sunday. We will look at him over the next two days and decide whether he will be fit enough to play," continued Ze Maria.
Whereas AFC supporters appear content with their coach, Gor Mahia fans have been unhappy with Ze Maria. Last weekend, fans barricaded the team and questioned the technical bench, prompting team trainer Sandro Fantino to threaten to fight fans. And Ze Maria knows the pressure of winning a derby, having participated in matches pitting bitter rivals Brazil and Argentina. The Brazilian tactician is optmistic of a positive result on Sunday.
"We know AFC Leopards are a good side and they have been training for the match. We have also prepared and we will play well in search of a possible win." he said to goal.com
Ze Maria has also instructed his players to stop reading social media comments. Last week there were reports that Tuyisenge in particular has lost his confidence due to harsh criticisms online.
""We are doing more of interpersonal discussions and less of pitch training. This is because I need get the pressure off these players' minds. They need to focus on the game, not on the comments being made on social media. I work best under pressure, but the same is not true for the players. Players get easily discouraged by criticism so I have asked them to stay away from social media for their own good," said Ferreira to the Nation.
Ingwe coach Stewart Hall for his part, played coy and insisted that this is just a normal game.
"We have been doing our normal training, this is a match like any other and there is nothing new or extra-ordinary with this game. As usual we have to give our best and try win maximum points; that is all that matters. But I am expecting a very exciting game this weekend." said Hall to goal.com
Hall will be coaching in his first mashemeji derby. But he is not intimidated and insists that he knows what to expect.
"I am not new to such derbies. In the clubs that I coached previously, there were such high profile matches which I took charge of. This will not be different. I have attended the Mashemeji derby in the past so I know what to expect. All that is required is to be mentally prepared for the match and that confidence is what we are working on." said Hall to the Nation.
Fans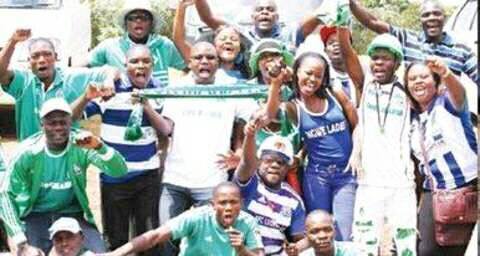 With Nyayo stadium still under renovation, any damage to the stadium is likely to be punished heavily. So one would hope that fans will behave themselves. Gor Mahia fans in particular will have hopefully learned from last year's debacle that saw them lose three crucial points that eventually cost them the title.
Nairobi governor Evans Kidero, who gave both teams Ksh 200,000, urged the fans of both sides to maintain peace during the derby.  Kidero also said that renovation at City Stadium is on track.