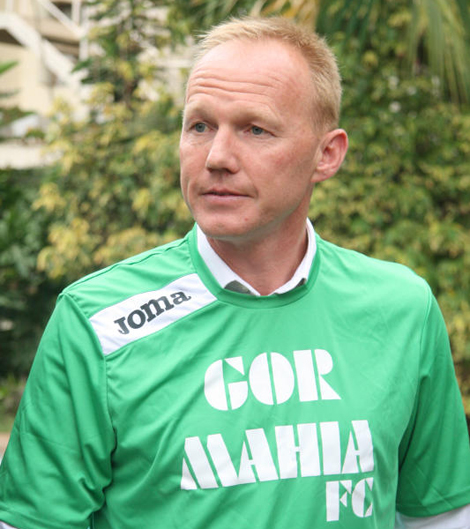 A report on various outlets suggests that Gor Mahia has fired highly successful coach Frank Nuttall.
"The reason for terminating my contract is because the executive committee of Gor Mahia club wanted to reduce my salary by 50% whereas my contract clearly provided for a 10% increase of my salary from January-2016." said the letter.
This is insanity of several reasons:
Nuttall is arguably the best coach ever to coach this team. His record is far superior to any other coach be it Jack Johnson or Len Julians. He is certainly better than Bobby Williamson under whom Gor Mahia were stale and predictable (the "patia Sserunkuma" tactic). Not only that but his record in international matches such as against Esperance and in the CECAFA cup was abysmal.
And he is much better than Zdravko Logarusic under whom Gor Mahia hardly scored any goals, often winning 1-0. His record in Africa was nothing to write home about. ENPPI of Egypt easily dispatched Gor Mahia 3-0.
Under Nuttall Gor Mahia did not just win but also won in style scoring more goals than any other team in the Kenya premier league has ever scored. He took Gor Mahia to the brink of winning the CECAFA cup, a starke contrast to the previous year.
Leading a team to an unbeaten season is no easy task. A coach has to keep players motivated and focused even when the players are not receiving their salaries. Even after Gor Mahia had wrapped up the league title, Nuttall kept players focused.
Firing a coach only a few  weeks before they are to play in the Africa champions league is ill advised. If they wanted Nuttall to take a paycut, this issue should have resolved in December.
No self respecting person will take a 50% pay cut.
Gor Mahia may live to regret this move. Back in 2014, the Kenya rugby brass fired coach Mike Friday who had led them to the world cup semi-finals and to a 5th place finish in the IRB sevens standings. They replaced him with South African Paul Treu and two expensive assistants. The net result was that Kenya finished 13th and was almost relegated. This proves that good coaches are not easy to find.
And while Kenya battled relegation, Mike Friday immediately joined a rival team and made them an instant success. Who is to say Nuttall cannot join a rival team either in the country or in the region.
You get the impression that Nuttall was liked by players. This could demoralize some players. But more importantly, it will disrupt the team just when it is about to take on CNAPs of Madagascar.
Worse still Nuttall could take his case to FIFA who almost always rules in favour of coaches and players whose contracts have been terminated early. Gor Mahia could end up having to pay his salary including the 10% raise, whether he coaches or not.
At this point the fans deserve an explanation from the club.