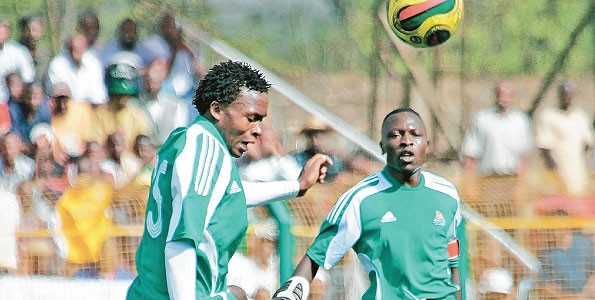 courtesy of futaa.com 
Gor Mahia have resigned their former striker George Blackberry Odhiambo on a one year deal.
Club deputy secretary general Ronald Ngala said the player has already linked up with his team mates for a nine day camp in Loitoktok.
-Yeah we already have him in on a one year deal, Ngala confirmed when contacted by futaa.com
-He was a free agent and considered resigning him from Armenia, he joined the rest of the team in Loitoktok.
If I were Williamson, I would be wary of Yanga
A story posted on goal.com suggests that Tanzanian daily Mwanaspoti claimed on Tuesday that the Scott tactician has agreed personal terms with Yanga paving way for him to leave. The daily reported that club chairman Yusuf Manji, who arrived in Dar es Salaam on Monday after an overseas trip, was scheduled to okay the deal to sign Williamson.
"Yanga have agreed personal terms with Williamson which includes buying out his remaining six months at Gor Mahia. The deal was delayed due to the absence of Manji but once he agrees to it, it is done," the paper said.
However, Gor Mahia chairman Ambrose Rachier denied the reports insisting that Williamson is going nowhere.
"I received a call from the Vice-President of Yanga inquiring about Williamson. But after talking to the coach, he was very categorical that he wants to stay at Gor Mahia.  Such reports are therefore, untrue and have no basis at all."  said Rachier to goal.com. He accused Yanga of being desperate to get a coach and asked them to look elsewhere.
Yanga seems an attractive opportunity for any coach. A bigger stadium, massive crowds etc. If I were Williamson, I would be wary In the past 3 years, both Yanga and Simba have had 10 coaches between them
Simba coaches in the past 3 years:
– Patrick Phiri (Zambia),
– Milovan Cirkovic (Serbia),
– Moses Basena (Uganda),
– Patrick Liewig (France) na
–  Abdallah Kibadeni (Tanzania)
– Zdravko Logarusic (Croatia)
*Yanga coaches  
– Sam Timbe (Uganda),
– Kostadin Papic (Serbia),
– Tom Saint Fiet (Belgium) na
– Ernest Brandts (Holland).
Now Yanga are in the process of searching for a new coach. There were even media reports that Yanga were trying to grab Zdravko Logarusic from rivals Simba ostensibly because the Loga led Simba recently drubbed Yanga 3-1. Talk about unstable. Glamorous neighbors Azam are not much better. Having grabbed Stuart Hall from Sofapaka, they fired him within one season.
Yet more Confusion over Lavatsa
Last month, it was announced that Edwin Lavatsa had signed an extension along with three other players. Yesterday, secretary Bwana told goal.com that Lavatsa indeed never signed an extension and is set to move to the Mid East.
Now Vice Chairman Faiz Ochieng tells futaa.com that  the player will sign an extension in the near future to stay at the club and added that the club does not know of any interest from Middle East clubs to sign him.
In camp
Faiz confirmed that at the moment the player is in camp with his team mates in Loitoktok preparing for the 2014 season and assured that the club cannot bar a player from leaving if the right move comes through.
-Lavatsa is currently in Loitoktok training with the team and there is nothing we know on the said Middle East move. No team from there has approached us so we treat those as rumors.
New deal
-The player will be signing a new deal with Gor Mahia soon but let it be known that we are not against players going to the Middle East, only that the move has to be right.  We do not want our players cheated only to go there to play in tournament then afterwards remain without a club, he told futaa.com.
Lavatsa has lately been in great form and was integral in the Kenya national team Harambee Stars' run in the 2013 CECAFA Senior Challenge.