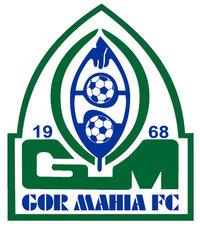 Gor Mahia did not hold elections in 2015. The eagerly awaited elections are due to be held this year are shrouded in secrecy and mystery.
Additional reporting from the Nation.
As the Gor Mahia fraternity heads to the eagerly-anticipated Special General Meeting on Sunday, leading candidates for the chairmanship position have raised the red flag over the procedure followed in convening the meeting.
Dan Oketch, who is angling to unseat long-serving club boss Ambrose Rachier, on Tuesday said that the planning of the meeting has been shrouded in secrecy.
Chris Omondi, who also wants the top job, also questioned whether the club executive followed the right guidelines as entrenched in the club's constitution.
"Up to now, we have not been told the exact time when the SGM will begin. Does it mean that the organizers have a hidden agenda or do they want to ambush us?" posed Oketch.
For his part, Omondi said: "The SGM has not been convened procedural because the constitution states that it's the club chairman or the substantive secretary general who should call for it, yet, in this case, it's the assistant secretary general. They should come clean on this."
The SGM is expected to adopt the new constitution and draw a road map for the elections expected to be held in December.
Contacted, acting club secretary general Ronald Ngala defended the office from criticism saying that due process was followed.
"Yes, the deputy secretary general (Anima Aketch) called for the meeting because she was mandated by the executive committee. So, the SGM is an executive decision," Ngala told Daily Nation Sport.
With the elections long overdue, Oketch and Omondi have been building their support bases with the aim of unseating Rachier.
Oketch has particularly been in an overdrive mode mobilizing supporters off the pitch and also building a strong presence on social media.
If elected, Oketch says that revitalizing the sleeping giant by constructing a modest stadium complete with training facilities as well as injecting professionalism will top his agenda.
Omondi, on the other hand, who served as secretary general before throwing in the towel citing frustration from his colleagues, has been heavily involved with the club's junior team.