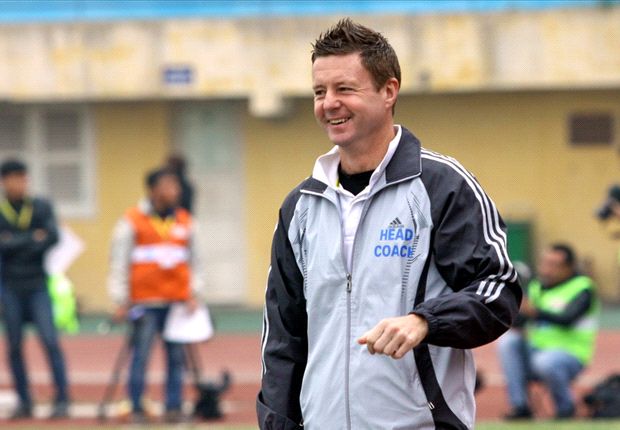 Dylan Kerr, The outspoken coach who is known for his colourful language, wants the players to fight in order to maintain their place in the starting line-up.
"You get the jersey, keep it! Don't let anyone take it. It's like having a girlfriend; you treat her good, treat her nice. There's always someone who wants a piece of her and you don't wanna lose her. Same in football; keep the jersey, make sure you are in the team," he said to Capital FM.
He is likely referring to the goalkeeping position where Boniface Oluoch's place in the starting was taken by Peter Odhiambo who went on to give a good account of himself.
Coach Kerr wants players to understand that their place in the team is not guaranteed.
"I want that competition; I don't want people thinking that they have a God given right for that jersey. If I don't think they are doing it, I will take it off them and then they have to show me they want it back," he continued.
The coach's frustration likely stems from the absence of key midfielder Kenneth Muguna whose reasons for absence are still not clear to the coach.
"He (Muguna) didn't train yesterday (Tuesday) and in the morning (Wednesday) he said his knee was swollen. I haven't seen him and that's an internal thing that I will deal with. It's a shame because I think he was pivotal for us on Sunday. But, to be honest, as a pro you are getting paid to work and as a pro if you are paid to work and you don't show up for work, it is wrong," the tactician added to Capital FM
Meanwhile the British coach continues to be dismayed and appalled by the lack of technique in Kenyan players.
"I have seen six games in Kenya and the lack of technique, ability in front of goal kills football. Every fan comes here to see goals. Yes we want to be entertained with good football, with trickery and skill on the ball but football is about scoring goals" he told Capital FM
Despite winning two games on the trot, Gor Mahia coach Dylan Kerr is not happy with his teams attack. Kerr who previously coached in Tanzania, thinks this is a problem across Africa.
"The problem with many teams in Africa is scoring goals, chances are created but that composure in front of goal is what is missing. Fans come to see goals and without goals, the match becomes boring, no goals no entertainment." said Kerr to goal.com
However Kerr avows that the team has been working hard to sharpen their attack.
"This week we have been working on that but I am still disappointed with the fact that we scored just one goal despite creating many chances," Kerr told
The goal that Tuyisenge scored against Nakumatt was well taken and showed composure in front of goal
Kerr is however happy with his defenders whom he thought gave a solid display.
"Credit to Nakumatt because they came at us from set pieces. But the defenders were fantastic, midfielders worked hard, but at half time I told them we were second best everywhere on the pitch," said Kerr.
Kerr wants to instill confidence in his team to ensure that they understand that they are better than any opponent.
"My players have to believe they are the best and I believe we have the best squad and the best players. But we have to focus, know our job and then have the desire and plan to go play well. We take each game as it comes. We will keep on believing that what we achieve in one game is achievable in 16 more games," he said.